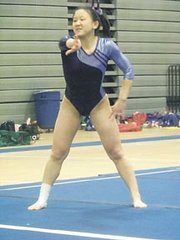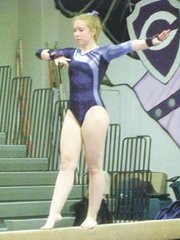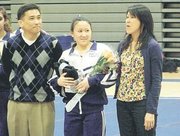 Like most 4-year-olds, Elly Taura was completely unaware that her thinking might not echo that of the rest of the world. It's not that Taura is mean-spirited — quite the opposite, really — but she just thought that she had the whole thing figured out.
She was starting her gymnastics career at Gemini Gymnastics in Herndon and was studying under her current coach, Chantilly's Maureen Naquin, who naturally deflected credit for Taura's development.
"I thought I was really good and I thought I knew everything," Taura said. "She taught me the ropes and put me in my place. She'd say, 'Elly, c'mon. That's not a front flip … this is.' But it was really fun."
Now a senior on the 10-0 Chantilly gymnastics team, Taura has found herself on or near the top of most scoring sheets. From a know-it-all toddler to team leader, Taura has matured and spent quite a bit of time with Naquin in the process.
"It's amazing to see her grow and do so well," Naquin said. "She's been a great inspiration for the girls. She's someone for them to look up to, and I think that's really important."
According to Naquin, Taura was surprisingly quiet during her freshman, sophomore and junior seasons. But as she progressed through the program, Taura began to talk more and assert herself as a leader.
<b>LAST FRIDAY</b> at Chantilly High School, with region rivals Herndon — coached by Naquin's husband, Keith Naquin — and Lake Braddock visiting for a six-team meet, Taura led both verbally and by example.
In the all-around competition, Taura finished second with 37.900 points, second to only Herndon's Maria Hayden (38.950). As a team, Chantilly held off Lake Braddock by nearly 10 points, earning a 144.425-134.825 win.
She scored first-place finishes on the vault (9.625) and floor (9.900), while finishing second on the balance beam (9.500) and fourth on the uneven bars (8.875).
Junior Lyndsey Saunders also played an important role Friday, taking fourth place with 35.925 points. Junior Lani Kroese (seventh, 34.700) and Heather Guryansky (ninth, 33.575) helped the Chargers claim five of the top nine all-around finishers.
"I've been so nervous for this," Taura said of her senior campaign, after which she'd like to attend James Madison, Wake Forest, Virginia or Emory and major in studio art or advertising.
"After all my years of gymnastics, this is the end," Taura added. "It's one of those things where I want to do well for myself."
Taura isn't selfish. By saying that she wants to do well for herself only means that she wants to obtain the best score possible to help the team. And this season, the team she's helping is actually healthy — a rare exception during Taura's career.
<b>HIGH SCHOOL</b> gymnastics allows up to six participants per event, and the top four scores count toward the team's overall score. Basically if a team has six members compete on the balance beam, the two lowest scores are ignored and the top four added.
Naquin believes that she has six or seven girls that can consistently post top scores. If someone falters, there's typically another that has had a better routine. The depth has been possible because of the team's health, which in previous years had been sort of an oxymoron.
Guryansky, now a sophomore, hurt her elbow during the opening meet of her freshman campaign but has since made a full recovery, while Taura also suffered an elbow injury.
Much like Taura, Katie Guryansky — Heather's older sister — has seen it all. Though she's only had to deal with minor back problems, Katie Guryansky has watched several of her teammates succumb to injuries, making this year even more special.
"It's nice to have everyone back," said Katie Guryansky, who finished sixth last Friday with 35.150 points. "We have six strong scorers on each event, and if someone doesn't have their best routine there's someone right there to fall back on."
After second-place finishes to Herndon in both the Concorde District and Northern Region last winter, Chantilly appears ready and healthy enough to make a run at the top.
"Every year we've had a couple of injuries, and this year we've been pretty safe," Taura said. "We're crossing our fingers."