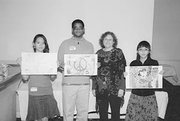 Three local students have taken the first step to becoming internationally recognized artists by winning a local competition sponsored by the Fairfax Host Lions' Club.
The posters by Miranda Hudson, a seventh-grader at Rocky Run Middle School; Israel Rodriguez Jr., an eighth-grader at Stone Middle School; and Kathleen Tran, an eighth-grader at Lanier Middle School, were among more than 375,000 entries submitted worldwide in the 21st annual Lions International Peace Poster Contest. Lions Clubs sponsor the contest to emphasize the importance of world peace to young people.
Winning posters were selected on the basis of originality, artistic merit, and portrayal of the contest theme, "Peace Begins With Me."
Fairfax Host Lions' Club President Steve Haywood said he was impressed by the expression and creativity of the students. "It is obvious that these young people have strong ideas about what peace means to them. I'm so proud that we were able to provide them with the opportunity to share their visions."
Winning posters advanced to the Lions District 24-A competition, where Israel earned the top prize and received a $200 check. Israel's poster will advance to the state competition, and the state winner will advance to the international competition.
One grand prize winner and 23 merit award winners will be selected. The grand prize includes a cash award of $2,000 plus a trip for the winner and two family members to New York City for the awards ceremony at Lions Day at the United Nations. The 23 merit award winners will each receive a certificate and a cash award of $500.
Fairfax Host Lions Club is a part of the largest service organization in the world – Lions Clubs International with over 1.3 million members in 202 countries and geographical areas worldwide. For more information on how to participate with this organization, send an e-mail to: LionsFFX@msn.com.