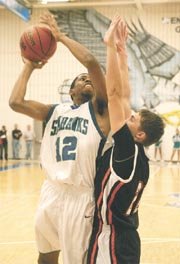 The Herndon High boys basketball team has proven it can play with some of the best teams nationally with a rigorous schedule that has well prepared it for play within the always tough Concorde District. The Hornets (7-5) have met such nationally renowned teams as DeMatha (Md.), New Rochelle (N.Y.) and Holy Cross (N.Y.), losing all three, but holding their own. They also played a preseason game against Metro-area power Flint Hill School, a private school team from Oakton.
"Four of our losses have come to top-20 teams [nationally]," said Herndon coach Chris Whelan, who believes playing the demanding schedule over the first half of the season will only help his team better handle high-caliber teams within the Northern Region throughout the latter half of the winter campaign.
But Whelan also realizes playing elite teams does not guarantee that Herndon will automatically excel in its district or region. The Hornets received a bit of a wake-up call when it lost a district game at Chantilly, 64-56, in overtime Jan. 13. Chantilly, one of the top teams in the region, improved to 12-1 overall and 5-0 in district play with the win.
<b>THE HORNETS</b>, in the loss, hurt themselves with 21 turnovers. They jumped ahead of the Chargers, 21-11, but could not sustain the good play, struggling through tough second and third quarters on way to the loss.
"We put our guard down a little bit," Whelan said of his team's mid-game troubles against Chantilly.
Along with the high number of turnovers, Herndon was hurt by poor foul shooting (8 of 16 at the line).
Herndon, however, came back strong three days later with a hard fought, if not sloppy, 47-44 district road win at Robinson last Friday night to improve to 4-1 in district play. The Hornets won despite turning the ball over 25 times.
"It was careless [mistakes]," Whelan said of the turnovers. "We didn't play particularly well, but we did what we had to do to win."
Whelan said, despite the high number of turnovers, that his team played a smart game. The Hornets, who built a 26-17 lead and were up by as many as 20 points at one point, played well with the lead, according to their coach. While Robinson fought hard to get back into the game, Herndon, Whelan said, played good defense and worked the ball for good shots on offense.
But Whelan realizes his team must cut down on the turnovers as it dives into the second half of the district season with a game at Fairfax High this Friday night.
"We need to start taking care of the basketball," said Whelan, whose team was scheduled to close out the district's first round of play Wednesday, Jan. 21, of this week with a home game against Westfield. "We haven't put together a full game [of flawless play] yet. The first quarter against Chantilly we showed what we are capable of doing."
<b>HERNDON</b>, in the loss to the Chargers, had a big game from senior frontcourt standout Isaac Johnson (22 points). Also for the Hornets, senior guard Marcus Hamilton scored 11 points and his brother, sophomore point guard Austin Hamilton, scored eight.
The Hornets, in the win over Robinson, received a balanced scoring attack with the 6-foot 3-inch Johnson leading the way with 20 points. Also for Herndon, senior Darian Olson netted 14 points, Austin Hamilton scored 12 and junior Zack Ozycz finished with eight.
Austin Hamilton, averaging 11 points and six assists per game, is putting together an exceptional season as a first-year varsity player. Whelan sees a bright future for the playmaker.
"He needs to be more of a leader out on the court as a point guard," Whelan said. "But I see a real upside for him. He will be a real good player if he continues to work hard."
Johnson, one of the better players in the region, is leading Herndon with 20 points a game and is also playing good on the backboards with consistent rebounding.
Meanwhile, forward Ozycz (10 points per game) and junior Randoll Anane (eight) are contributing to the scoring production.
Whelan said Johnson, a returning captain and starter this season, can score in a variety of ways — with his improved mid-range jump shot as well as with inside the paint moves on defenders.
"He's going out and doing the things he does best," said Whelan, who said Johnson has learned to relax and play better as the season has moved on. "He has a mid-range jumper and is quicker than his defenders and can drive [to the basket]. He'll score at will [inside] on the block. And he's a very good defensive player. He leads by example. He's not very vocal, but the players see how much he works."
Whelan said Herndon is growing more and more confident as the season moves forward. The Hornets hope to continue to improve their game each week and ultimately into the postseason.
"The Concorde is very good every year and there are no cupcake games," Whelan said. "We're getting better and we're playing as a team."