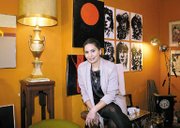 <b>Business name:</b> Verdigris Antiques & Interiors
<b>Address: </b>1215 King Street
<b>Years at this address:</b> 3
<b>Years in business: </b>5
<b>Telephone: </b>703-505-9970
<b>E-mail address: </b>verdi1215@aol.com
<b>Web site: </b><a href="http://verdigris.bondandbowery.com">http://verdigris.bondandbowery.com</a>
<b>Owner:</b> Ursula Baukol
<b>Short bio:</b>
Born in New York City; mMarried; attended Queensborough Community College in New York, American University in Washington, D.C. and took interior design courses at The Corcoran Institute in Georgetown; owned a technology training company in Rosslyn, Va. for seven years and was a federal government contractor before opening Verdigris in 2003.
<b>Why did you choose this particular business? </b>
I have always been a creative person. I love history and working with people. I am fascinated by how objects can affect our emotions in the way that antiques and other items from the past do. I also believe that selling vintage and antique goods is the ultimate in recycling. This is how I do my part!
<b>Why did you choose to work for yourself rather than as an employee for someone else?</b>
I left home at 18 because my parents could not afford to send me to college. I have worked successfully for a number of companies, but I also come from an entrepreneurial family. There are seven of us, and four of us are self employed. It is certainly scary to go out on your own, but there is great pleasure in knowing that you are making your own way. Being your own boss makes you responsible for your own success or failure, and that's a great motivator. Having all the responsibility is never easy, but it can be very rewarding, and not just financially.
<b>What have you learned from being in business? </b>
Honesty and integrity are the most valuable assets you can offer your customers. They will never fail you.
<b>Share an anecdote of a challenging or humorous experience.</b>
This experience was not challenging or humorous, but it is a good example of why I love what I do. I have a wonderful customer who bought a painting from me because it reminded her of her young son who died while helping victims of Katrina in New Orleans. It was so touching to know that something in my store gave her comfort from such a terrible loss. It's experiences like this that make my business such a joy for me.
<b>What have been the advantages and/or disadvantages of operating a business in Alexandria? </b>
Because of its historic designation, Old Town, Alexandria draws a large number of visitors year round. That's good because you know your business will always get regular foot traffic, especially if you're on King Street. The disadvantage seems to come from how the City government interacts with small business. In my opinion, the people who represent the City rarely include the small business community in its decision-making process when it comes to decisions that will affect us. I, and many of my business colleagues, feel like the City doesn't really care about what we have to say. It makes you wonder whether they understand that small business is the lifeblood of our community and that it takes more than historic architecture and a waterfront to make a town successful. Small business is a vital part of Alexandria, and we just want to know that the City recognizes that and respects our input.
<b>Key staff: </b>
Michele Flynn, Sandi Conklyn (weekend sales staff)
<b>Description of services and/or products:</b>
Verdigris offers an eclectic and interesting mix of antique and vintage decorative arts and merchandise from around the world. We offer furniture, lighting, china, art, books and even vintage clothing. Our merchandise changes often so you never know what unique or unusual item you might find. Some of our current offerings include a late 19th century gilded French parlor sofa, a set of three 1970s aluminum "Fly" barstools salvaged from an airport lounge, and a life-size antique French bulldog bobblehead toy. In addition to merchandise, we offer decorative consulting and home styling/staging services. We can help you decorate your house from scratch, freshen it up, or get it ready for selling.
More like this story