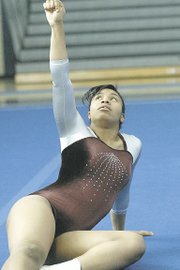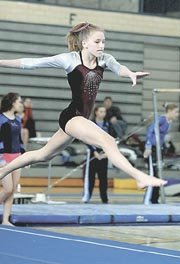 It just doesn't add up for Mount Vernon girl's gymnastics coach Linda Fischer that the year her team is the largest it has ever been may be its last.
Fischer, the Majors coach since 2000 and a gymnast herself at the school from 1994-1997, usually tries to keep her team to a manageable size by making cuts during preseason tryouts, but this season decided to keep all 23 girls who came out.
With the Fairfax County School Board strongly considering a budget proposal that would eliminate funding for girl's gymnastics starting next season amidst a reported $170 million shortfall. It has left Fischer with the unenviable task of explaining the situation to her suddenly robust team.
"I've told the kids time and time again, this is your last year," Fischer said at the Washington-Lee Invitational this past weekend. "It has been very difficult."
Although a final decision on the fate of girl's gymnastics won't be made until May, the fact that county officials have already amended their plan once — the original proposal called for the elimination of indoor track as well — without taking girl's gymnastics off the chopping block has created a gloomy outlook for the close to 200 members of the sport's community.
"It has been really sad because gymnastics is my sport and I don't do any other sports in high school," said Mount Vernon junior Meg Earley. "I'm not the only person that this is their only sport. There are tons of girls here that this is the only sport they do."
<b>WHAT HAS MANY</b> gymnastics coaches around the area irked is the reasoning behind Fairfax County's decision making. Bill Curran, the county's director of athletics, has characterized girl's gymnastics as a "dying sport" in high school with plenty of opportunities at the club level.
This logic is wrong, according to most coaches, because many of these club gymnasts have to practice all year-round and being able to compete at the high school level is their only opportunity to represent their schools and be recognized by their peers.
And of the four coaches interviewed Saturday, none had more than a couple girls on each squad that competed at the club level. Fischer said "maybe one" of her 23 gymnasts would be able to do club, while West Potomac coach Pete Novgrad — who also is the coach at Edison, Jefferson, and T.C. Williams — said four of his 32 total gymnasts could do club if high school gymnastics is to be eliminated.
Carly Meyer, the gymnastics coordinator of the Arlington Aerials club program, said to even be a part of their recreational team, participants had to be a level four gymnast and "a lot of the high schoolers who do the sport are not equivalent" to that. The club program is more exclusive and can cost up to $310 a month.
"High school gymnastics is not club," said Fischer. "To go to a club, they don't want to see someone that just does cartwheels and half my girls are just cartwheels and roundups. They aren't doing handsprings or tucks. They're here to have fun."
Proponents of the sport say officials throughout Virginia should take into account Title IX issues and look towards cutting freshmen team programs, rather than seeking to eliminate an entire varsity sport. The Fairfax County School Board is holding an additional public comments hearing Wednesday night, after the Gazette's press time.
<b>WEST POTOMAC CAPTAIN</b> Cara Yaworske, a junior, wants to speak at that meeting because she feels the voice of those who actually benefit gymnastics isn't being heard.
"It seems like everyone is aware of gymnastics being cut but they don't seem to care as much as we do, obviously, because they don't do the sport," said Yaworske. "But do they realize this is making me lose my chances of competing for my school during senior year?"
Her coach, Novgrad, thinks all the negative publicity is also discouraging younger girls from coming out for the sport. He said a number of girls didn't come out for his teams this season because they thought the sport wouldn't be around much longer.
For now, though, everyone involved with area high school gymnastics can only hope for the best as what looks more and more like their final season moves along.
"I'm hoping they can keep it around," said Earley as she prepared for her floor routine last weekend. "I might still be able to do gymnastics, but it won't be the same if it's taken away."