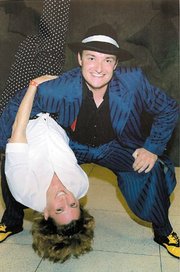 Send announcements to reston/herndon@connectionnewspapers.com or call 703-917-6437. Deadline is Thursday for the following week's paper. Photos/artwork encouraged. For additional listings, visit www.connectionnewspapers.com.
<cal1>Wednesday/Jan. 28
<cal2>Senior Movie Day. "PS I Love You" will be shown in the Multiplex Cinema at Reston Town Center, 11900 Market St., at 10 a.m. Refreshments and door prizes provided prior to movie. Free for those 55+. Call 703-435-6530.
Relay for Life. 7 p.m., Reston Sheraton, 11810 Sunrise Valley Drive, Reston. A "Kick-Off Party" for the 2009 Relay for Life will be held. The Relay will be held May 30+31 at South Lakes High School. Call Angee Quattro at 301-466-3320 or Andrew Sterling at 703-244-5881 to donate or volunteer.
<cal1>Friday/Jan. 30
<cal2>Winter Sky. The Walker Nature Education Center, 11450 Glade Drive, Reston, is hosting a winter sky program, 7 p.m.–8:30 p.m. Learn about the stars and folklore associated with these celestial objects. Meet at Quartermaster Soccer Field located at the intersection of Glade Drive and Quartermaster Lane. Cost: $5/person for Reston Association members; $8/non-members. Reservations required; call 703-435-6530 or e-mail naturalist@reston.org.
<cal1>Saturday/Jan. 31
<cal2>Andrea Marcovicci. 3 p.m., Reston Community Center, 2310 Colts Neck Road, Reston. Andrea Marcovicci will perform songs celebrating Fred Astaire. Visit www.andreamarcovicci.com.
Dine-In Movie. 6-9 p.m., Herndon Community Center Pool, 814 Ferndale Ave., Herndon. Bring your floats and rafts and watch a movie in the pool. Doors open at 6 p.m.; movie begins at 6:30 p.m. Pizza and drinks available for purchase on the pool deck. Children under 12 must be accompanied by a parent or guardian; children under 6 must have a parent or guardian in the water with them. Visit www.herndon-va.gov or call 703-787-7300.
<cal1>Thursday/Feb. 5
<cal2>Reston Garden Club. The Garden Club will meet at 1:30 p.m. at Lake Anne Community Center, 1609-A Washington Plaza, Reston. The program will be "Reston Garden Club Goes to the Oscars" and several members of the garden club will show floral interpretations of movies that have been nominated for an Oscar. Visit www.restongardenclub.org.
<cal1>Friday/Feb. 6
<cal2>Used Book Sale. Reston Regional Library, 11925 Bowman Towne Drive, is holding a "Mystery Mini Used Book Sale" during regular library hours through Wednesday, Feb. 11.
<cal1>Saturday/Feb. 7
<cal2>Polar Dip. Camp Sunshine presents the Virginia Polar Dip at 2 p.m. at Lake Anne Village Center in Reston. Participants must raise a minimum of $100 in pledges. Prizes awarded for top fundraisers and best costumes. Visit www.freezinforareason.com/virginiapp.html.
Father Daughter Dance. Fathers and their daughters, ages 4-12, are invited to dance to popular music at the Herndon Community Center, 814 Ferndale Ave., 6:30-9 p.m. This semi-formal event will include dancing, appetizers, drinks, a photo of the couple and a keepsake. Daughter may be accompanied by an uncle, grandfather, or a male guardian. $50/couple; $25/each additional daughter. Call 703-787-7300.
<cal1>Sunday/Feb. 8
<cal2>Sea Chanters. A free concert by the U.S. Navy's official chorus "Sea Chanters" will be held at Good Shepherd Lutheran Church, 1133 Reston Ave., Herndon, 2:30 to 5:30 p.m. For tickets, call 703-439-2755 from 1-4 p.m., leave your name, telephone number and complete mailing address
and the church will mail your tickets.
More like this story