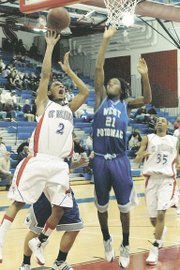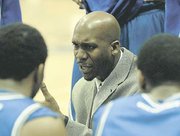 Even before the season began back in December, West Potomac boy's basketball coach David Houston III knew the last six games before the district playoffs began would be his team's most important.
With a team chock full of first-year varsity players, Houston had a plan in mind from the get go of preseason.
"The goal is to take the baby steps through the end of the year," Houston said at a practice in November. This team needs to just build every day and when the playoffs come, be at the highest level we can play and ride that through the playoffs."
But after losses to defending Virginia AAA state champion T.C. Williams, 68-37, last Friday night, and Lake Braddock, 59-45, on Monday night, it appears hatching the strategy and carrying it out do not go hand in hand.
"We haven't been playing our best basketball," said a frustrated Houston after Friday's loss to T.C. Williams. "But we still have more games left and they're definitely still important for preparing yourself for the postseason."
And although West Potomac (5-10 overall, 1-8 Patriot District) are now riding six-game losing streak heading into next Tuesday's match-up with South County, the Wolverines must remain afloat for seeding purposes.
That's the joy of high school basketball, everybody gets a shot at redemption once playoff season hits. And the Wolverines, led by junior Martez Redfearn and emerging sophmore guard Daryl Copeland, have the talent to play spoiler if they get the right breaks. That means winning at least a couple of their remaining five district games.
The last thing West Potomac wants is a first-round rematch with powerhouse T.C. Williams, whose win over the Wolverines Friday night was its 60th straight in Patriot District play. A favorable match-up increases the chances of Houston's squad sneaking into the regional tournament despite a lackluster record.
"Every game is tough, so we're playing for positioning in the district tournament," said Houston. "And we're playing to find the right rotation and the right guys on the court. I do think we're getting better in a lot of areas."
<b>THE SCRIPT IS REVERSED</b> down Richmond Highway at neighboring Mount Vernon High School, where the boy's basketball team is in the midst of a 10-game winning streak following last Friday night's 72-51 victory over Washington-Lee.
Mount Vernon (12-4, 7-0 National District) has a two-game cushion over second place Stuart and Yorktown in the district race with just five games remaining, including two games this week.
While Mount Vernon has had a plethora of players step up in various games, the one constant throughout has been junior Skylar Jones, averaging more than 17 points per game. If the versatile forward keeps up his impressive pace, the Majors have as good a shot as any to make a run at the Northern Region title.