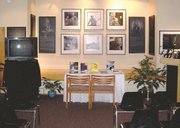 The Alexandria Black History Museum opened a new exhibition June 18 which features a series of black-and-white photographs of various well-known jazz musicians from the Kansas City area. The 50 portraits, collectively entitled "The Fine Art of Jazz," are the work of Pulitzer Prize-winning photographer Dan White, who spent almost 20 years working on the project. Museum Director Louis Hicks notes that the facility has been "working very closely with Meade Memorial [Episcopal] Church to create a series of jazz-related exhibitions" at the museum, and that "The Fine Art of Jazz" is a part of that ongoing effort. Hicks cites the influence of local musician Courtney Brooks, who helped forge a relationship between the museum and the D.C. Blues Society before his death, and as well as the "wealth of music in the area" as factors that led to an increased interest in jazz on the museum's part, and, eventually, to the decision to bring the jazz exhibit to the museum.
Since its opening, the exhibition, which also includes a number of books on photography and jazz, has proven to be well-liked by all who have taken the time to give it a visit. "It's been enthusiastically received so far," said Hicks, and proof of his statement is found easily amongst the museum's guests. "I love it. The pictures are great. The artistry is great. It's very well done," said museum visitor Crystal Williams. "I think it's a great place you could bring children from [local] schools to see, to learn about black history and jazz. It's very educational," echoes Eva Williams.
The portraits will be on display at the museum through Saturday, Aug. 8, when their stay will be capped off by a performance from local artist Aretha Aretha. To learn more about the new exhibit or the Alexandria Black History Museum check out www.alexblackhistory.org or visit the museum anytime from 10 a.m. to 4 p.m., Tuesday through Saturday at 902 Wythe Street in Alexandria.