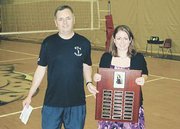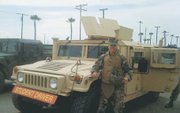 SYA Volleyball Commissioner Dave Lacey presented the Courtney Richard Scholarship on Saturday, June 6, to Westfield High School senior Melissa Szymanski. Melissa has been involved with SYA volleyball as a player, a referee and as a coach. As the recipient of this year's scholarship she was awarded a check for $3,000 and her name was added to the scholarship's plaque, which will be displayed at Westfield High School during the upcoming school year. Melissa will be attending James Madison University in the fall and is majoring in Health Science.
Centreville High School 2007 graduate Daniel "Scott" Behne, now a junior at the U.S. Naval Academy in Annapolis, wishes Mr. Ferrick would have provided him with some advanced driver's education to handle beast's like this. Scott recently spent some time with the Marines in California and enjoyed his training — particularly firing the grenade launcher.
Army Sgt. Craig Bolin , son of Major (Ret.) Stephen and Bonnie Huneke of Centreville and the late CW3 Billy Bolin, will be home in the coming weeks for his R&R leave. He graduated from Basic training at Fort Benning, Georgia, in January of 2006. This is his second tour of duty in Iraq as an Infantry soldier. He is serving with the 2-5 Reg of the 1st Cavalry Division based out of Ft Hood in Texas. Bolin is a 2004 graduate of Westfield High School in Chantilly.
In Chantilly, the following residents have been nominated for a Fairfax County Volunteer Service Award:
* The Interact Club of Chantilly volunteered at Pathway Homes Inc., and are nominated for the Youth Volunteer Group award. They were nominated by Abigail Denecke.
* Annalisa Waybright volunteered for Brain Injury Services, Inc., and is nominated for the Adult Volunteer award. She was nominated by Tomoko Taguchi.
Justin Mahlmann, PE and principal in the firm, has been named the managing director of Bowman Geothermal. Mahlmann, who came to Bowman Consulting eight years ago, has over 15 years of engineering experience, was the branch manager of Bowman's Prince William office, and was a regional vice president. He has a civil engineering degree from The University of Virginia. Mahlmann will be working out of Bowman's Chantilly office.