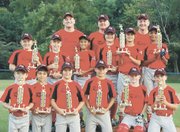 <b>Youth Baseball Team Makes States</b>
The 9U Arlington Rebels defeated the Herndon All Stars in back-to-back games to win Babe Ruth's District 7 title and advance to the state tournament. In game 1, the Herndon Heat jumped out to a 5-0 lead in the first inning and held Arlington scoreless for four innings. Game 1 was delayed 24 hours due to rain and when the game resumed, Arlington relied on the strong pitching of Andrew Simmons and Zack Allen to hold Herndon scoreless for the final five innings. Meanwhile, the Rebels scored six runs in the final two innings on key hits from Jacob Hardney, Tanner Wall, John Henry Skerl, and Zack Allen to defeat the Herndon All Stars 6-5.
In Game 2, the Arlington Rebels capitalized on hot bats to score 15 runs and again relied on great pitching and defense to protect their home field advantage at Barcroft Park.
The 9U Arlington Rebels next play in the nine-and-Under state tournament in Bealeton, Va. on July 10.
<b>NVSL Update</b>
Here's a recap of contributed reports detailing the 4th of July weekend for area NVSL swim teams.
Hunter Mill defeated <b>Donaldson Run</b>, 240-162. Double winners for Donaldson Run included Olivia Cox, Kate Rita, and Andrew Fleckenstein.
The <b>Overlee</b> Flying Fish started July 4th off with plenty of fireworks in the pool as they blasted past the visiting and previously undefeated Vienna Aquatic Club (VAC) Gators and claimed a 272-130 victory. Overlee improved its record to 3-0 and remains tied with Chesterbrook for the Division 1 lead. Overlee swimmers continued to pile up top-three finishes in the 38 individual events with 26 victories, 25 second-place finishes, and 22 third-place finishes. These included nine sweeps, six double winners, and 14 single event winners. Victories in nine of 12 relays, including a record-setting performance by the 11-12 boys, capped off the victory.
Double Winners: Ryan Baker, Katie Bennett, John Thomas Dolan, Suzanne Dolan, Michaela Morrison and Kaitlin Wolla.
Division 8 Dominion Hills Pool lost their first meet of the season against Riverside Gardens of Alexandria by a score of 249 to 153. Double Winners: Andrea Oaxaca, Eric Weiner, Abby Young.
In Division 11, the <b>Arlington Forest</b> Tigers (3-0) continued its hot start to the season by defeating Truro, 217-185. Double race winners for the Tigers were Sophia Constantine, Kait Luncher, Christopher Palacios, Elizabeth Palmer, Malin Serfis and John Tridico. Single winners were Benjamin Bean, Bryn Edwards, Woody Jones, Jake Huston, Alexandra MacCallum, Adam Michalak, Michelle Moriarty, Rebecca Palacios, William Polly and Kate Williams.
To have a team's swim results published in print or on the Connection Web site, contact sports editor Mark Giannotto at mgiannotto@connectionnewspapers.com.