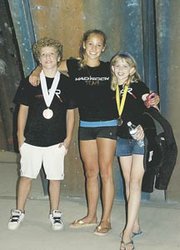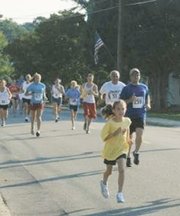 <b>Competitive Eating</b>
Two weeks ago at the annual July 4th Nathan's Famous Hot Dog Eating contest, Alexandria resident Sonya "The Black Widow" Thomas set a new women's world record by devouring 41 hot dogs in just 10 minutes.
Introduced by over the top competitive eating emcee George Shea as "the Leader of the Four Horsemen of the Esophogus" two weeks ago, the 98-pound Thomas is the No. 5 ranked competitive eater in the nation with 29 world titles and records in more than 25 different competitions. She's nicknamed "The Black Widow" because of her ability to out eat men three and four times her size.
Thomas did not return a phone call seeking comment on her accomplishments, but here's a sampling of just some of her achievements within the world of competitive eating over the years.
* 8.4 pounds of baked beans in 2 minutes, 47 seconds
* 65 hard boiled eggs in 6 minutes, 40 seconds (take that Cool Hand Luke)
* 44 Maine lobsters (11.3 pounds of meat) in 12 minutes
* 11 pounds of cheesecake in nine minutes
* 446 Phillips crab cakes in 10 minutes
* 48 soft chicken tacos in 11 minutes.
<b>Local Rock Climbing</b>
Five local youths from the Sport Rock climbing teams in Alexandria and Sterling recently traveled to Salt Lake City, Utah to compete at the Sport Climbing Series Youth National Championship. Sasha Diguilian, Randy Fawcett, Peter Grill, Ada Saker, and Tegan Wilson earned invitations to the event through local, regional, and divisional climbing competitions. Four hundred boys and girls, ages 8- 19, from across the United States took part in 10 different age and gender categories competing in both sport climbing or difficulty and speed climbing. The top finishers in each category receive invitations to join the U.S. National Climbing team and ages 14 and older receive invitations to the Junior World Championships in Valence, France in late August.
Sasha Diguilian of Alexandria placed second in sport climbing in her age category at the national competition. Diguilian has accumulated numerous climbing awards including three-time North American Continental Champion in her age group and placing fourth at the Junior World Championship in 2008. By placing second, Diguilian earns a spot on the U.S. National Climbing Team.
Tegan Wilson, 13, of Alexandria placed 4th in sport climbing and 5th in speed earning spots on both the U.S. National Climbing Team for sport and speed. A member of the National Team in bouldering, this is Tegan's second year to qualify for a place on the National Team for both sport and speed.
<b>Alexandria Youth Wins Race</b>
Audrey Androus, 9, of Alexandria won the 12-and-under division of the 7th annual Reedville, Va. Firecracker 5k race on July 4. Androus's winning time of 24 minutes, 33 seconds placed her in the top 15 percent of all women and top 20 percent of all runners. Nearly 500 people entered the race. Androus became the youngest runner to ever win the 12-and-under division. She is a rising 4th grader at Charles Barrett Elementary School and a member of the Alexandria United U10 Girls travel soccer team.
<b>Swim Results</b>
The Mount Vernon Park Gators collected their second-consecutive victory over a team with a Dolphin mascot, this time defeating Greenbriar, 219-183. With the exception of breaststroke, the meet was close the entire way — but the third stroke of the meet allowed the Gators to break away for the easy victory and improve to 3-1 on the nearly completed season. Double Gator winners were Collin Sundsted (free and back), Torie Bolger (free and back), Sara Bertram (free and fly — 13 year old Bertram won swimming up as a 15-18 yr old), Christine Rholl (free and back), Jack Benson (back and fly), and Maddy Bolger (back and fly).
It was another sunny Saturday morning as the Riverside Gardens Tsunami swim team won its fourth meet of the season on July 11. The Riverside team defeated the Commonwealth Cudas by a score of 232-170 for another home win. The team is now 4 – 0 for the season, with one meet remaining. Riverside Gardens posted 22 first-place finishes in 38 events.
Double winners were: Jonathon Letai, Madeline Stevens, Sean Heffernan, Emma Klein, Kevin Grant, and Adam Bloom.
<i>To have swim results posted in print or on the Connection's website, please contact sports editor Mark Giannotto at mgiannotto@connectionnewspapers.com.</i>