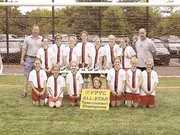 <b>Gymnastics Camp</b>
Chesterbrook Academy Elementary in Chantilly will host a gymnastics camp July 20-24 for kids ages 4-8. Flip, jump and roll into summer fun with this camp where attendees will have fun learning basic flips, rolls and cartwheels. Self confidence and coordination will improve while learning new tricks. Call 703-397-0555 to register.
<b>Softball Registration</b>
The Pioneer Softball League is conducting registration for the fall 2009 season. Teams form Aug. 17 and practice starts Aug. 20. The season will run from Sept. 8-Oct. 31. Registration fees are $70 for Rookies (7-8-year-old, coach pitch) and $70 for Minors (9-10, kid pitch), Majors (11-12) and Seniors (13-16). A 10-percent discount will be given to those who register before Aug. 1, and there's a maximum cost of $250 for families with multiple players. Assessments for players will be held Aug. 8 and 15. For more information or to register, contact director Scott Keith at 703-933-2389 or scott_w_keith@yahoo.com or visit the team's Web site at www.pbsl.org.
<b>Senior Olympics Registration</b>
Register now for the Northern Virginia Senior Olympics, which take place Sept. 12-23. Registration forms are available at senior centers and residences or by calling 703-228-3600 (Ext. 9996). Seniors can also download registration forms, rules and other details at www.novaseniorolympics.com. The deadline for registration is Aug. 28; however, early registration is appreciated. Cost is $10 for one event and $1 for each additional event. Last year more than 500 adults competed in 25 events that range from track and field to team line dancing. New this year, too, will be Wii bowling and mini-javelin throw. The track events will be at Thomas Jefferson Community Center, 3501 S. 2nd St., Arlington, following the Opening Ceremonies on Saturday, Sept. 12, at 10:30 a.m. A health fair sponsored by Virginia Hospital Center will also take place that day, from 9-11 a.m. All events are open to the public at no charge.
<b>Fastpitch Softball Tryouts</b>
The Virginia Crushers fastpitch softball team will hold tryouts for the 2009-10 (fall-spring) season at Hylton High School in Woodbridge. Tryouts for the U-10 (10 a.m.-noon), U-12 (noon-2 p.m.) and U-14 (2-4 p.m.) teams will be Saturday, Aug 8. and Sunday, Aug. 16. Tryouts for the U-16 and U-18 teams will be Saturday, Aug. 15 (2-4 p.m.) and Tuesday, Aug. 18 (6-8 p.m.). There are no boundary restrictions for the Crushers. For more information, visit the team's Web site at www.vacrushers.com, call 571-233-0174 or email va.crushers@yahoo.com.
<b>Upcoming Tournament</b>
On Saturday, July 25, the Salter Family will host the First-Ever Mycal Salter Memorial Basketball Tournament at The Burger King Outdoor Basketball Court at the corner of Old Centreville Road and Sunset Ridge Road in Little Rocky Run. There will be five players to a team, plus an alternate, and it's a bracket-style tournament. Cost is $5 before the day of the event and $10 on July 25. There will be cash prizes, skills contests, music and much more. For additional information or to register, contact Jayson Salter at 703-955-6901 or Marque Salter at 703-477-7863 or Salter5on5@yahoo.com. Eighteen-year-old Mycal Salter died on a neighborhood basketball court in Centreville on July 30 of last year with an unknown-at-the-time, hereditary heart disease called hypertrophic cardiomyopathy.