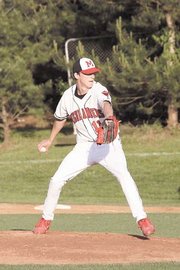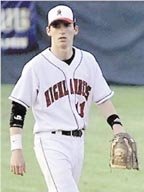 Baseball managers tend to resort to vague compliments to describe their star players, largely because being successful on the diamond often involves having an innate sense of the game.
So when McLean baseball coach Jon Thomas is talking about first team all-region selection and rising senior pitcher/shortstop Sean Fitzgerald and says, "I give Sean a ton of credit. He has always, from the minute we got him as a freshman, understood how to pitch," it's much more of a tribute than it seems at first glance.
While having velocity closing in on 100 mph certainly gets one noticed more quickly, the art of pitching, like what count to throw a curve ball in the dirt or how to throw a pitch just far enough off the plate that a batter swings, could be the hardest skill to teach.
But Thomas might need to take that praise to another level soon after Fitzgerald cemented his status as one of the area's best baseball prospects last week, verbally committing to take his talents to Notre Dame in the fall of 2010.
The junior led the Highlanders to their first Liberty District tournament title since 2000, finishing the year with an unblemished 8-0 record and 1.52 earned run average on the mound and a .468 batting average at the plate.
Formally, his college choices came down to Notre Dame, Virginia, and Virginia Tech, but informally, the 6-foot-1 righthander knew what college he would be attending ever since his father, a Fighting Irish alum, sat him down in front of the television to watch Saturday afternoon football games.
"It was a family thing, Notre Dame was my No. 1 school coming into high school," said Fitzgerald, who has already set a school record with 19 career wins and has several uncles that are Notre Dame alumni.
THOUGH FITZGERALD made an immediate impact on the McLean baseball team the minute he joined as a freshman pitcher, finishing with a 5-4 record and a 2.07 ERA, it was the improvements he made once getting to high school that set him apart, according to Thomas.
After topping out at between 80 and 84 mph his first two years at the high school level, Fitzgerald added 15 pounds of muscle to his frame last summer and saw his velocity jump to the 88-89 mph range this past spring.
"That's when he became a really high quality recruit," said Thomas. "He's really committed to getting the most out of his talent."
Currently down in East Cobb, Ga., playing with a collection of the Mid-Atlantic region's best players in the World Wood Bat Association 17-under National Championships, Fitzgerald has started re-molding his lower body by running every day and lifting weights, in hopes of making his fastball even more potent.
As for making it to the big leagues one day, the thought has crossed his mind every once in awhile. But with McLean losing just two players from last year's regional tournament team and a Golden Dome in his immediate future, the pros can wait for now.
"My aspirations have always been towards D-I ball," said Fitzgerald, who mostly pitch in college. "Now that I've gotten here, I'm gonna try to do well at Notre Dame first before worrying about anything else."