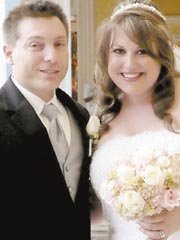 Deborah Lynn Horowitz and Marcus Jacob Lempel of San Diego, Calif., were married on May 24, at the Bellagio Hotel in Las Vegas, Nev.
The bride is the daughter of Vivian and Joe Horowitz of Escondido, Calif., formerly of Burke. Deborah is a graduate of Lake Braddock Secondary School and James Madison University. She received a law degree from Catholic University in Washington, D.C. and is currently employed as a consumer law attorney in San Diego.
The groom is the son of Rita and Harvey Lempel of Great Falls. Marcus is a graduate of Langley High School and Virginia Tech University. He is currently a senior computer security consultant in San Diego.
Present at the wedding were the parents, Marcus' brother Stuart Lempel and Kelly Dangelmaier of Reston, and Deborah's brother Michael Horowitz and his wife, Heather, of Tampa, Fla.
The couple spent their honeymoon in Waikiki and Maui, Hawaii. They will continue to reside in San Diego.