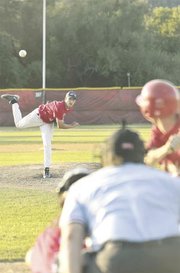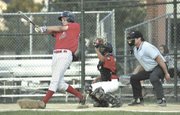 After Alexandria Post 129 collected the last out Tuesday night in its 13-10 win over Post 1976 of Annnadale, manager Robert Mannel gathered his team in left field at Frank Mann Field in Four Mile Run Park for a final talk.
Despite the threat of the lights going out following a three-hour baseball game, Mannel wanted to make sure his message was heard loud and clear. One of the most competitive seasons in recent memory for the American Legion 17th District is now over, the playoffs are here.
"You've got to be ready," Mannel implored his squad.
This year, the 17th District reworked its rules so that just six teams qualify for the postseason, rather than having all eight automatically advance. That means the top two teams get first round byes, while seeds three through six face off in what amount to play-in games.
With the top six teams in the league separated by just five games in the regular season, the one-loss elimination format means somebody good is likely going home earlier than expected. Post 129's victory Tuesday gave it a solid 14-9 record, good enough for third place in the league.
<b>NEARBY OLD TOWN</b> Alexandria Post 24 also qualified for the playoffs this week, completing a late-season surge with two victories Tuesday night, defeating Post 130 of Falls Church, 5-4, in a shortened seven-inning affair. They followed it up with a dominant 17-0 win in the second part of the doubleheader.
Post 24, which features players from Mount Vernon, West Potomac, and Hayfield High Schools, closed the season with six-consecutive victories to finish with a 12-11 record, good enough for the fifth seed in the playoffs.
Manager Jim Glassman credits his team's recent hot streak to the improved play of West Potomac slugger Grady O' Hagen, pitchers Brett Schaeffer and Peterson, and Mount Vernon's Andrew Sable and Andrew Zumwalt.
"Winning makes you happy and this has been the most fun we've had all season," said Glassman. "We started out slow, but now … guys who want to play ball are playing ball and they're playing it well."
Post 129 consists of players from T.C. Williams, Edison, Bishop Ireton, and St. Stephen's/St. Agnes. The synergy between the top players of every school helps to create what can be an electric atmosphere in the postseason, despite the general assumption that summer baseball is more laid back than the spring scholastic season.
"I would say high school playoffs get more publicity, but legion playoffs are more exciting," said catcher John Kane of Post 129. "There's fewer teams, and each team is built with the best players from the local high schools. You're looking at the highest competition in the area."
<b>BUT IT'S THE PARITY</b> within the league this season that has some foaming at the mouth in anticipation of Saturday. And it only takes looking at recent results to understand just how evenly spread the baseball talent is this year.
Post 130 of Falls Church currently has the best record in the 17th District with two regular season games remaining. And yet, Post 24 defeated them soundly Tuesday night behind a complete game shutout from pitcher Danny Peterson of West Potomac.
Meanwhile, Post 129 had its hands full Tuesday night against Post 1976, the league's worst team. After jumping out to an early 12-2 lead, Post 24 watched it slowly evaporate before pitcher Tim Mannel came in to shut the door in the eighth and ninth innings to give Alexandria the 13-10 victory. Kane finished with two doubles and three RBIs, while third baseman Josh Knupp, second baseman Geoff Goff, rightfielder Dan O'Keefe, and starting pitcher Chris Cattaneo all collected two hits as well.
That, though, came on the heels of Monday night, when Post 24 routed its neighbors from Post 129, 14-1. It just proves how high the level of competition could be come this weekend.
"The teams this year are a lot better," said Knupp. "Last year, there were two or three teams that didn't really have it every night, but this year you can lose on any given day and that's what makes it exciting."
Post 129 will likely face Springfield Post 176 in its play in game, while Post 24 will likely take on Vienna Post 180. Falls Church Post 130 and Arlington Post 139 will receive first-round byes. The winner of the 17th District tournament moves on to the state tournament beginning July 27.