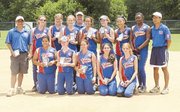 <b>Strong Showing</b>
The Herndon Reston Youth Softball U-16 girls' fastpitch all-star team competed in the 2009 Virginia Babe Ruth state tournament over the Fourth of July weekend, finishing as the tournament's runner-up. The team will now advance to the Babe Ruth Regional, to be played July 16 in Andalusia, Ala. In addition, Thao Le was recognized as the Most Valuable Player of the series.
<b>Medals Earned</b>
Three members of the H.K. Lee Academy of Taekwondo in Herndon won gold, silver and bronze medals at the 2009 USA Taekwondo Junior Olympics and U.S. National Championship in Austin, Texas on July 1. Blake Rodgers, 8, won gold medals in both Poomsae and Sparring, while Anthony Prosekov, 8, won silver in Poomsae and bronze in Sparring. Cole Trippett, 7, won silver in Sparring. Rodgers and Prosekov competed in the 8-9-year-old black belt division, and Trippett competed in the 8-9 red belt division. Poomsae consists of a series of choreographed movements in which the athletes are judged on their grace, strength and correction execution of techniques. In Sparring, athletes are awarded points for kicks delivered to valid scoring areas, which include the torso and the head.
<b>Football Camp Registration Open</b>
Registration is open for Reston Youth Association (RYA) football camp, which runs the week of July 20, from 6-8 p.m., at Langston Hughes Middle School. The RYA football camp is a non-contact program for both experienced and new players and will feature a station-based training format and motivational talks by RYA coaches and NFL players. Registration is also open for the fall tackle football and cheerleading programs. The RYA programs are open to youth ages 7-16. No experience is needed and full player participation is guaranteed regardless of ability or experience. The three levels of play are based on age, weight and experience. Games will be played on the turf fields at Lake Fairfax Park. Practice begins Aug. 10 and the first games are Sept. 19. The season ends by Thanksgiving. Obtain information on RYA programs and register online at www.restonseahawks.org. For questions, e-mail vp@restonseahawks.org.
<b>Reston Triathlon Date Set</b>
The Reston Triathlon Association has decided on a date of registration for the 2009 Reston Triathlon, which will take place on Sunday, Sept. 13. Triathletes can only register online for this event on Monday, Dec. 1 beginning at 7:30 p.m. Go to the Web site at restontriathlon.org for more information. Cost is $125 for USAT members or $135 for registration and a one-day USAT membership. The race includes a 1-mile swim in Lake Audubon, a 22.3-mile bike ride on rolling Reston roads and a 10-kilometer run on shaded Reston pathways. The race starts at the Lake Audubon boat ramp and ends at the South Lakes High School stadium.
<b>Softball Registration</b>
The Pioneer Softball League is conducting registration for its fall 2009 season. On Aug. 17, teams will form and practice starts Aug. 20. The season will run from Sept. 8-Oct. 31. Registration fees are $70 for Rookies (7-8-year-old, coach pitch) and $70 for Minors (9-10, kid pitch) Majors (11-12) and Seniors (13-16). A 10-percent discount will be given to those who register before Aug. 1, with a maximum cost of $250 for families with multiple players. Assessments for players will take place on Aug. 8 and 15. The Pioneer Softball League is a nonprofit organization dedicated to providing the opportunity for girls ages 7-16 to play fastpitch softball. For more information or to register, contact director Scott Keith at 703-933-2389 or via e-mail at scott_w_keith@yahoo.com. More information is available at the league's Web site at www.pbsl.org.
<b>Senior Olympics Registration</b>
Register now for the Northern Virginia Senior Olympics, which take place Sept. 12-23. Registration forms are available at senior centers and residences or by calling 703-228-3600 (Ext. 9996). Seniors can also download registration forms, rules and other details at www.novaseniorolympics.com. The deadline for registration is Aug. 28; however, early registration is appreciated. Cost is $10 for one event and $1 for each additional event. Last year more than 500 adults competed in 25 events that range from track and field to team line dancing. New this year, too, will be Wii bowling and mini-javelin throw. The track events will be at Thomas Jefferson Community Center, 3501 S. 2nd St., Arlington, following the Opening Ceremonies on Saturday, Sept. 12, at 10:30 a.m. A health fair sponsored by Virginia Hospital Center will also take place that day, from 9-11 a.m. All events are open to the public at no charge.