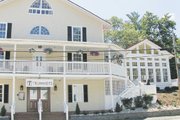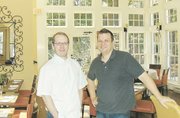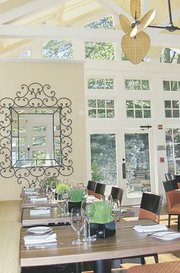 From the outside, Trummer's on Main looks much the same as it did when it was called the Hermitage Inn. But inside, diners will find a world of difference.
New owners Victoria and Stefan Trummer have been busy renovating and modernizing the building since late 2008 and, with a new executive chef, pastry chef and sommelier, Clifton's newest restaurant is now welcoming its first customers. It opened for business on Monday, July 13, at 7134 Main St. in the Town of Clifton.
"We're very excited," said Stefan Trummer. "It's been a long road to get to this point and it's great to see it all come together."
Victoria Trummer, 26, was raised in Clifton and is a 2001 Centreville High grad. At 18, she moved to New York, got an MBA with focus in marketing and met Stefan. Now 32, he was born and raised in Austria, where he worked in his family's restaurants and later attended restaurant-management school. He worked in Bermuda and managed bars in upscale, New York restaurants. He and Victoria have been married three years and are thrilled to be running their own business.
"Victoria's dad told us this one was up for sale," said Stefan. "It was a great opportunity and, for Victoria, it was coming home."
"I hope it turns into an upscale restaurant that's also a neighborhood restaurant where people feel comfortable coming, a couple days a week," she said. "I planned weddings in New York, so I hope to do lots of weddings here, too."
THE HISTORIC building housing the Trummers' new restaurant dates back to 1869 and was once the Clifton Hotel, but the Trummers have made extensive improvements to the walls, electricity and plumbing. They put on a new roof, installed a new ventilation system and either replaced or refinished the floors.
"Hiding under a carpet upstairs was the original, hardwood floor, which we refinished," said Stefan Trummer. "Although, we pretty much remodeled the entire building, and we made the kitchen layout more efficient and brought the kitchen up to state code." So how much did it all cost? "Lots," he said.
The restaurant features three dining rooms, a bar/lounge area and a special, bridal dressing room upstairs since the building will also host weddings and receptions.
The largest and most spectacular of the dining rooms is called The Winter Garden. In an addition built by the previous owners, it seats 75, boasts floor-to-ceiling glass on three sides, and looks out on the town on one side and a waterfall in the back.
Its garden theme is carried out in paintings of the four seasons and in the table centerpieces of live grass. "And at night, there's cool lighting," said Trummer. "The garden outside is lit up and people will see the waterfall, trees and flowers and will feel like they're sitting in a garden. We'll also have some tables outside."
To the left of the original building's entrance is the dining room called The Loft. Once a tiny area enclosed behind French doors, it seats 45 and is now more spacious and airy, said Trummer, "like a New York loft with a big, open space."
The third dining room, upstairs, seats 45-50 and is called The Gallery because artwork from local artists adorns the walls. The displays will change often and the art is available for purchase.
"Our pastry chef is also an artist, so we'd like to show his abstract artwork up there, too," said Trummer. "On display now is the work of Buck Nelligan of Sterling, who paints in a variety of styles."
Downstairs is the bar/lounge area including a wine cellar and private, wine-tasting room seating about 14. "We excavated underground so it's a new space," said Victoria Trummer. "And it stays nice and cool and moist in there, which is great for the wine."
"It can hold up to 8,000 bottles," said her husband. "We'll use the room for specialty tastings and wine dinners focusing on particular types of wines, such as Virginia wines. Our sommelier Tyler Packwood, formerly of the Inn at Little Washington, will talk about the wines, their backgrounds and characteristics. We'll also have winemakers come and talk about the wines."
The menu will be seasonal, offering modern, American cuisine done in fresh, innovative ways. "We try to be sustainable, using local products," said Stefan Trummer. "We're bottling our own water, both still and sparkling, from our well, and it's filtered and super clean. The filtration system is green-certified and the bottles can be reused, so we've reduced our carbon footprint."
All the coffee is furnished by Caffe Pronto in Annapolis and is roasted just 24 hours before its served. Furthermore, it's fair-trade coffee from sustainable farms.
Monday's opening was a big success and, said Victoria Trummer, "It's definitely a dream come true. I've wanted to do this for years, but didn't know how, where or when, and to see it come to fruition is a little bit surreal." Making things even better, she said, is that "the town is really enthusiastic about our opening. The people here have supported us even more than we could have asked for."
More like this story