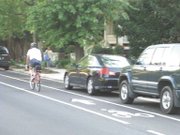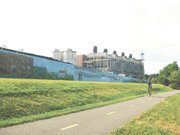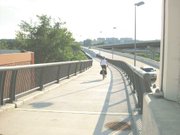 The steady buzz of spinning bicycle wheels competed with the hum of passing traffic as swarms of cyclists enjoyed the newly-completed Woodrow Wilson Bridge Trail one recent weekend afternoon. The trail, which opened to the public following a dedication ceremony on National Trails Day on June 6, provides a link between the Mount Vernon Trail in Alexandria and the Potomac Heritage and Harborwalk Trails in Prince George's County. Combined with its commanding views of Old Town, the National Harbor, and the District, the Woodrow Wilson Bride Trail has quickly become one of the most popular in the region.
But the Woodrow Wilson Bridge Trail is only the most visible in a series of improvements that have swept Alexandria's cycling network in recent years.
"In the last three years alone we've added nine miles of on-street bike trails across the city," said Yon Lambert, pedestrian and bike coordinator for the City of Alexandria. "That's a huge step up from the mere mile and a half of on-street bike trails the city had in 2006."
Other recent improvements to the city's bike trail network include the resurfacing of a 0.5 mile stretch of trail along Eisenhower Avenue; a Duke Street overpass that provides a pedestrian and bicycle link between the Cameron Station Development and Beatley Library; and a new trail along Route 1 that provides a connection between the Mount Vernon Trail in Old Town and the Huntington Metro Station. The city has also outfitted all Dash buses with bicycle storage racks and installed dozens of bike racks on sidewalks across the city to encourage cycling as a viable transportation option.
"Thanks to these improvements," Lambert said, "about nine percent of all commuting trips in Alexandria are now made by cycling and walking, an increase of over five percent since 1994. That's four times the national average."
<b>AT A CELEBRATION</b> on Bike to Work Day on May 15, the city was formally recognized for its efforts by the League of American Bicyclists. The city joined 108 other communities across the country to be recognized by the organization as a "Bicycle Friendly Community."
"We were thrilled to be recognized," said Jerry King, current president of Bike Walk Alexandria, an organization that lobbies for the interests of pedestrians and bicyclists. "In the next couple of years, we will be working … with the city to improve signage and expand the network of bike trails and lanes."
Alexandria officials had been striving for recognition from the League of American Bicyclists since 2006, when city council members approved what they named the "Spin City 2009 Action Plan." In an outline of the plan from June 2006, it was noted that increased bicycle use can provide a set of social benefits ranging from pollution control to enhanced recreational opportunities to advances in the city's appeal to tourists, businesses and new residents.
"Alexandria should be a walking and biking city," said a May 2005 city council memo. "This is not a silver bullet for our changing region, but it is a critical component of how we improve our quality of life. People should not always have to get in the car for a carton of milk or to meet friends for a cup of coffee."
Many city officials view improvements to the bicycle network as key components of a larger, long-term effort to transform the city's transportation system and to minimize car dependence.
"Current levels of automobile use are not sustainable," said Bruce Dwyer, former chair of the Alexandria Bicycle Study Committee, now known as Bike Walk Alexandria. "Making Alexandria more bicycle friendly is just one in a set of bigger issues that includes enhancing transportation alternatives like walking and mass transit," Dwyer went on.
"I would bet that 80 percent of people in Alexandria live within walking or biking distance of a grocery store, a school, a post office — anything the average resident would need on a day-to-day basis. The reason people don't choose bicycling as an option is because they see it as dangerous. That's where the city must come in."
Dwyer pointed to engineering improvements like more bike lanes and bike racks throughout the city as important steps in improving the safety of biking.
<b>BUT EQUALLY</b> important to making bicycle use a safer and more accepted form of transportation are city-wide bicycle education and encouragement efforts. The Bicycle Section of the City of Alexandria's Comprehensive Transportation Master Plan, adopted April 12, 2008, proposes that Alexandria City Public Schools begin keeping track of the number of children who choose bicycling as a means of getting to school. The plan proposes that schools work towards increasing this number by five percent annually through 2011. The plan goes on to mandate that "more than 50 percent of elementary-aged school children receive bicycle safety education by 2010."
Middle school students have been the subject of the city's bicycle education and encouragement efforts as well. As part of Alexandria's Bicycle Ambassador Program, starting in summer 2008, 12 students from George Washington and Francis Hammond Middle Schools have attended dozens of community events like farmer's markets, the Friendship Firehouse Festival, and the Red Cross Waterfront Festival, where they distributed bicycle maps and safety information to city residents.
But the continued rise in the City's level of bicycle friendliness faces obstacles.
"As with any major City initiative, the challenge is always funding," said Lambert. "As the city faces financial difficulties, we've had to look for alternative sources, like federal grants and stimulus money."
In 2008 the city secured more than $5.6 million in state and federal grants for bicycle and pedestrian improvements, including safer routes for students commuting to school.
"We're headed in the right direction," said Lambert regarding improvements to the City's trail network and broader transit system, "but there's still a lot of work to be done."