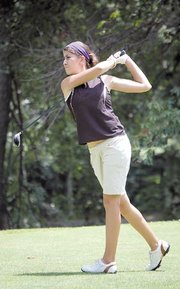 Herndon golfer Shabril Brewer was tied for second after regulation play in the 2009 Virginia Junior Girls' Championship. She and Chesapeake's Lauren Coughlin finished one stroke behind Paige Reese (South Hill) after the last round of the two-day event on July 15.
With only a moment to relax, Virginia State Golf Association officials whisked Brewer and Coughlin off to Loudoun Golf and Country Club's No. 1 tee, a sudden-death playoff for second place.
"My heart was racing," Brewer said, afterward. "My hands were sweating, and I took deep breaths, trying to slow down my heart rate."
She calmed down enough to match Coughlin through three playoff holes, as each parred the first hole, the second and then No. 1 again. Playing the second hole once more, both hit lovely approach shots onto the par-4's green.
Brewer just missed her 10-foot putt for birdie and stepped aside for Coughlin's five-foot birdie attempt. Coughlin confidently made the putt for the second-place silver.
Brewer shot a 75-72-147 from the forward men's tees on Loudon's par-72 layout. Her highlight in the second round was a chip-in for eagle on the 15th.
"That was a great boost," she said.
Brewer, 16, is a rising junior at Westfield High School and expects to again play on the boys' golf team this fall.
Before practice starts in early August, she'll play in the prestigious Optimist International Junior Golf Championships in Palm Beach Gardens, Fla.
Herndon's Julie Luo finished second in the 12-13 girls' division, six strokes behind the 13-year-old phenom from Chesterfield, Lyberty Anderson. The seventh-grader won the Richmond women's city championship in June and made to the quarterfinals of the Virginia Women's Amateur in early July.