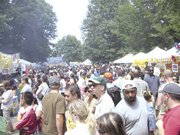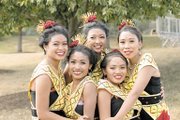 The Dulles Regional Chamber of Commerce will again serve as a sponsor at the Asian Food and Tennis Festival this August. The Chamber joins other corporate sponsors such as TTOA, India International School and RCN Corporation to celebrate the vibrancy of Asian culture in its many ethnic hues.
The event, organized by the Thai Tennis Organization in America (TTOA) in association with India International School (IIS) in Chantilly, will take place on Saturday, Aug. 1, from 10 a.m. to 10 p.m. and Sunday, Aug. 2 from 11 a.m. to 6 p.m., at the Lake Newport Tennis Facility in Reston. The festival is a two-day free admission event to promote a greater understanding of Asian-Americans and their cultures. The Dulles Regional Chamber of Commerce will be hosting VIP luncheon immediately following the opening ceremonies on Saturday at noon, Aug. 1. Guests will include local legislators as well as foreign ambassadors from several Asian countries.
Each year, the festival showcases the culture of a particular Asian country and this year it is India. This year, the festival celebrates and explores the diverse Indian cultures by bringing India's authentic regional foods, arts, crafts and entertainment.
The Indian Village Stage will present classical and folk dances; classical and fusion music; yoga; magic; and, of course the ever popular Bollywood dances. IIS is collaborating with a number of artists and organizations to showcase the true spirit of India — unity in diversity.
"We are pleased to help organize this important celebration of Asia culture," said George Duangmanee, Thai Tennis Organization in America (TTOA) managing director. "We work with many local Asian Associations to introduce Asian cultures and tennis to the local community."
TTOA's mission is to promote tennis growth and encourage young people to broaden their horizons through education initiatives via scholarships. TTOA is a proud member of the USTA family, and was the recipient of the 2004 Organization of the Year Award by USTA Mid-Atlantic section and the USTA.