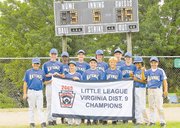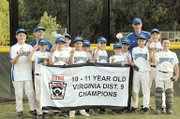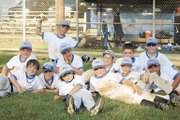 One credited his team's explosive offense. Another couldn't believe how resilient his group was, often erasing multiple-run deficits to assume the lead late in ballgames. A third deflected all the credit.
"I'm no sociologist or psychologist, but they all have one goal and that's to go out there and get better and to win," said Phil Williams, who manages the West Springfield National 11-12-year-old Little League All-Star team. "I can't say it's anything I've done."
Winning has been a regular occurrence for West Springfield's All-Star teams this summer, with three teams representing the organization by District 9 titles. It's the second time West Springfield has accomplished the feat since the current playoff format was adopted in 2004 and the first since 2007.
While West Springfield Little League's two younger teams came up empty this past weekend in their quest for state trophies, Williams' Majors team will try to become the first this coming weekend as that tournament kicks off on Friday morning.
"There are a lot of good coaches, and it starts at the top with the people who run the league," Williams said. "Baseball people in our district … they know if they sign up for baseball that they're going to get good instruction and it's going to be a good environment. And if you start winning when you're 9 or 10, you just keep moving up the ladder."
That start fell under Dave Spille's job description this summer. Spille, the one that benefited from his team's offensive output of around 18 runs per contest, guided West Springfield National through the 9-10 tournament, beating Dumfries-Triangle-Quantico in the title game.
But the state tournament in Luray, Va. was unkind to Spille's team as it failed to advance past pool play.
"We just have a great group of kids and parents and I feel fortunate that we were able to win districts and move on to states," Spille said. "It's just exciting for the kids to be able to get out of town and stay in a hotel together."
Carlos Quinteros' group was the resilient one, a reputation cemented after a thrilling, come-from-behind win in Game 1 of the District 9 finals against Fort Hunt. In the bottom of the sixth inning, West Springfield American came to bat and trailed, 4-2.
But the team scored twice to tie it, and when Fort Hunt went ahead, 6-4, on a two-run homer in the top of the seventh, Alex Wright's walk-off shot sent set off a celebration. Following the 8-5 win, West Springfield American easily won the second game, 15-0.
"My kids were able to come back all the time. We just had a lot of determination," said Quinteros, whose team advanced to the state tournament but wasn't able to advance past pool play, losing two of its three games. "They had a will to fight the whole way."
Williams has had a longer layover than most, with its state tournament still not yet underway. But in the meantime, Williams said, West Springfield National has been trying to adjust its practice schedule to coincide with its game times, often working out for three or four hours at a time.
The state tournament will start with a 10:30 a.m. game against Norton on Friday, followed by a 1 p.m. contest with McLean American on Saturday and a 7:30 p.m. date with Warwick on Sunday. If West Springfield National wins or finishes second in its four-team pool, it will advance to the championship round on Monday and Tuesday of next week.
"We took it easy on them a couple days after districts," Williams said. "At one practice, we just had a barbecue and hung out. For two days, we rested our arms, but they all still wanted to be together. They never say they want a day off."
"We've got to play our game, and hopefully things go our way," Williams said of the state tournament, which will be at the Lincoln Lewis Vanoy fields near Willow Springs Elementary School in Fairfax. "It's all about the competition."