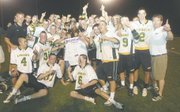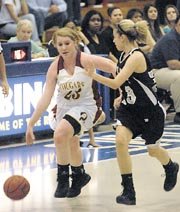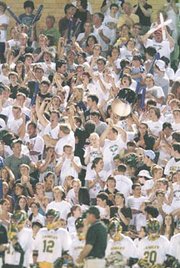 Generally speaking, sports at any level break down into just a few different storylines. There are the magical underdog stories that draw comparisons to David beating Goliath. Or the opposite, more predictable result, in which a favored side wins just like it was supposed to.
But a third and compelling tale in sports has come to define the high school sports scene of the McLean, Great Falls and Vienna areas this past school year. Part David, part Goliath, it is the team that claims "Nobody believed in us" and uses that perceived slight to come together for a championship season.
Heading into their perspective seasons, the Oakton football team, the Langley boys' lacrosse team and the Oakton girls' basketball team embodied this statement, the notion that outsiders considered them inferior. It is a belief that defined their runs to Northern Region championships.
<b>Oakton Football, Fall 2008</b>
As the beginning of the 2008 Northern Virginia football season dawned last fall, Oakton football coach Joe Thompson was at a crossroads. The end of the 2007 season had been an ugly one, with the Cougars losing their final regular season game in a one-point loss to Herndon that knocked them out of the playoffs.
Thirteen wins and a Virginia AAA Northern Region title — Oakton's first since 2005 — it's safe to say the Cougars used the past season's disappointments to their advantage. The highlight of the year came in the regional finals against Concorde District rival Chantilly.
Chantilly had given Oakton its lone regular-season loss, a 17-15 defeat, earlier in the year, but the Cougars would leave no doubt in the title game. Oakton stormed to an early lead and cruised to a 52-14 victory.
"When I started this season with my coaching goals and my coaching staff, we said that wins and losses don't matter. We just wanted our program back," said head coach Joe Thompson. Oakton lost in the AAA state semifinals to Oscar Smith High School. "We just wanted the season to be one of pride and one of commitment where you play with passion and heart."
The team was led on offense by star quarterback Chris Coyer and senior captain and linebacker Jack Tyler on the defensive side of the ball.
<b>Oakton Girls' Basketball, Winter 2009</b>
It wasn't as if coach Fred Priester and the Oakton girls' basketball program were nobodies on the Northern Region girls' basketball circuit heading into this season. Priester, the all-Connection coach of the year this past winter, had led the Cougars to two regional titles in the previous eight seasons, including a state title game appearance in 2001.
But with this year's team relying on two freshmen and two sophomores to be key contributors and a lineup devoid of anybody 6-feet or taller, there's little doubt few gave Oakton much of a chance.
And yet, when March rolled around, the Cougars were playing for a state championship and a perfect 31-0 season. Led by senior captain Erin McGartland, sophomore sharpshooter Zora Stephenson and emerging freshman Caroline Coyer, the Cougars showed the doubters that whatever they lacked in athleticism could be made up for with a knack for getting hot from behind the 3-point line and a lot of heart.
Oakton's season ended with a 71-61 loss in the state finals to Princess Anne, but not before ending the year with a remarkable 30-1 record and a third region title for Priester. With most of their key contributors back again next year, the Cougars could be just as good next year.
"Everybody doubted them except themselves and me," said Priester, of the region rumblings throughout the season that the Cougars were bound to fall back to earth as the wins kept piling up. People said we're too small and too slow, but we're 30-1 and people should remember that."
<b>Langley Boys' Lacrosse</b>
It took Langley boys' lacrosse coach Earl Brewer seven tries to finally win a AAA Northern Region lacrosse title, so once he accomplished the feat this past spring, he made sure to take full advantage of it.
The Saxons took home the AAA state title, defeating defending state champ Chantilly, 4-3, in overtime. Langley (21-1) completed a picture-perfect 10-0 postseason, winning the Liberty District tournament finals over Madison, a team that, during the regular season, had handed the Saxons their only defeat, before eventually capturing the program's first region title with a championship game win over Robinson.
A spectacular on field Saxon celebration followed the score, which gave Langley its first-ever state crown at the expense of the defending state champion Chantilly team.
"I love these players and I love this team," said Brewer, who was hoisted onto the shoulders of Saxon defenders Thomas Robinson and Trevor Shafran during the emotional, post-game celebration. "I can't say enough about them. They're just great kids and understand what [this accomplishment] means."