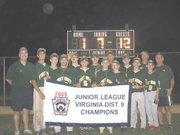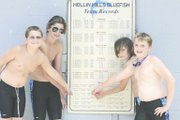 <b>All Star Team Wins District</b>
The Fort Hunt Little League Juniors All Stars team recently took home the District 9 Championship by beating DTQ, 12-1, in the district championship game, earning the right to represent District 9 in the state tournament. Led by team manager Jeff Bigler, the Ft Hunt Juniors — ages 14 and 15 — sailed through the district tournament by winning every game they played throughout the tournament and outscoring their opponents 88-6. The team travels to the state championship next week, where they take on tournament winners representing the other 15 Districts in Virginia. The winner of the state tournament travels to Cartersville, Ga., for the Southeastern U.S. Championship.
<b>Swim Results</b>
The Hollin Hills Bluefish finished their season July 18 with a decisive win over long-time rival Rolling Valley Dolphins with a score of 216 to186. The Bluefish also broke a pool record set back in 1985. The Bluefish are coached this year by Alex Collins and Chris Keany. Double winners included Jennah Tihami, Beata Corcoran, Michael Valceanu, and Jarod Worden.
<b>Youth Baseball Registration</b>
Registration for Fort Hunt League fall baseball is now open. See the "Baseball" link at the top of the fhyaa.org Web site for information on our baseball program.
Register online at http://fhyaa.org. For questions, contact the President Paul Murphy (FortHuntBaseball@msn.com) or Registrar Jeff Lerner (fhll.registrar@verizon.net).