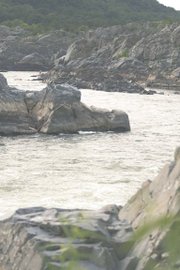 Some people live in Potomac for years without paying a visit to the national park that runs through town, but most are well aware of the treasure awaiting them in their proverbial backyard. The C&O Canal National Historical Park has something to offer for nearly anybody — rock climbers, bird watchers, kayakers and canoeists, hikers, history buffs, and those who simply want an afternoon outdoors.
The C&O Canal runs 185 miles to Cumberland, Md., but the most highly visited portion of the park is that between Great Falls and Georgetown. The portion of the canal that runs through Potomac features "hotspots" like Great Falls Tavern, as well as quieter places upstream, like Swains and Violettes Locks. Below are several local areas of note along the canal.
<ro>1.
<ro1>Carderock Recreation Area
<lst>What: A portion of C&O Canal National Historical Park featuring a picnic pavilion and dramatic cliffs.
Where: Off the Clara Barton Parkway.
Why: Carderock has a picnic pavilion, and is a popular rock-climbing spot.
What: Top-roping, bouldering and soloing on cliffs as high as 80 feet are frequent activities at Carderock, but for less experienced climbers there are several beginner climbs available. Picnic areas for hungry hikers and climbers are also popular.
How: From I-495 (Capitol Beltway) take Exit 41, Clara Barton Parkway. Take the first exit on the right, which is for both Carderock and the Naval Surface Warfare Center (Carderock Division). Turn left at the stop sign at the top of the ramp tp cross the parkway. After passing under the canal, turn right at the "T" turn.
<ro>4.
<ro1>Billy Goat Trail, Sections B & C
<lst>What: Two hiking trails accessible from the C&O Canal towpath.
Where: Section C begins at the westernmost end of the Carderock parking lot (turn right when entering the lots, and go to the end); it runs between Mile 9.9 and 11.0 of the C&O Canal towpath. Section B begins a tenth of a mile downstream from the Old Angler's Inn parking lot; it runs between Mile 11.4 and 12.3 of the C&O Canal towpath.
Why: Trails B and C are different from Section A. For one, hikers can bring their dogs — on leashes — with them on B and C, but not on A. The three hikes vary in difficulty levels: Trail C is the easiest, B the intermediate, and A is for serious hikers.
<ro>3.
<ro1>Old Angler's Inn Parking Lot
<lst>What: A parking area by the C&O Canal, located across the street from the famed Old Angler's Inn restaurant.
Where: Across the street from Old Angler's, located at 10801 MacArthur Blvd., Potomac.
Why: Located two miles downstream from Great Falls Tavern, there is no charge to park in this lot. It is a popular spot with kayakers — beginners often take lessons in the canal, and there is a put-in for advanced paddlers who brave the Potomac River.
What else: Widewater, a scenic natural opening in the canal, is a half-mile upstream from the parking lot. Berma Road is a 1.4-mile gravel path that begins by the parking lot, and offers scenic vistas of Widewater, before it joins the towpath near Great Falls.
And ...: Hot, sweaty and hungry canal-goers that don't want to eat that last banana for lunch or wait until they get home can head to Old Angler's Inn and enjoy the casual fare served on the restaurant's shaded patio, which the restaurant calls "Angler's Garden." Menu items in the 'Garden' include hot dogs, hamburgers, paninis, salads — and cheaper prices than the restaurant's regular menu. Entrees on the garden menu range from $6-$12. Garden is open Thursday-Sunday.
<ro>4.
<ro1>Billy Goat Trail Section A
<lst>What: A physically demanding hiking trail.
Where: The closest parking to Section A is the Old Angler's Inn lot — Section A begins a half-mile upstream from the lot. It runs between Miles 12.8 and 13.8 of the C&O Canal towpath
Why or why not: Section A is the most difficult part of the Billy Goat Trail and is not recommended for hikers without experience. Those who choose to hike it should be well-prepared: make sure to wear trail sneakers or hiking boots, bring plenty of water and be sure to stay on the path. Walking off-path is both harmful to the environment and potentially dangerous for hikers. Dogs are not allowed on Section A.
<ro>5.
<ro1>Great Falls Parking Lot Entrance
<lst>Where: Intersection of Falls Road and MacArthur Boulevard
How much: Parking is $5 per vehicle, $3 per cyclist/walker.
Why: The Great Falls entrance to the park is a popular one. Historic Great Falls Tavern is there, offering information on the history of the Canal. The towpath is a popular spot for hikers and bikers and the mule-drawn Charles F. Mercer packet boat — a replica of the boats that traveled the Canal in its heyday in the mid to late 1800s — docks up here. A short walk downstream on the towpath from the Tavern leads to a catwalk that carries visitors to a scenic overlook of the roaring rapids of Great Falls.
<ro>6.
<ro1>Great Falls Tavern
<lst>Where: At the Great Falls Entrance to the park.
What: The Great Falls Tavern has served in a variety of capacities since it opened in 1828. Originally a lock-keepers home, the building eventually became a tavern, then a hotel for travelers along the Canal. After the Canal went under in 1924 due to the convenience of train transport the building continued to function as a hotel, fueled by the rising popularity of the automobile, but its days as a hotel or a tavern ended for good during the Great Depression.
The building sat empty for several years until the Canal became part of the National Park Service and the tavern was reopened for a year as a visitor's center with historical displays. The building has recently reopened after a renovation that made it look like the tavern that it was in its 19th-century heyday. It now features updated historical displays about the history of the Canal and the natural history of the Potomac Gorge.
Public boat rides on the Mercer are offered during the spring, summer and fall months. Boat rides run five days a week, Wednesday to Sunday. Call 301-767-3714.
<ro>7.
<ro1>Swain's Lock
<lst>What: Lock 21 of the C&O Canal located on Swain's Lock Road.
Where: Drive north on River Road (Route 190) and turn left on Swain's Lock Road. This is an easy turn to miss — if you pass Smoky Quartz Lane or Spur Wheel Lane on the right side of the road you've gone too far.
Why: Swain's Lock is quieter than Great Falls Tavern and has several picnic spots between the towpath and the Potomac River. It is a favorite of those looking to get out into the park but away from the more crowded parts. Hikers, bikers and dog-walkers are frequent visitors here.
<ro>8.
<ro1>Violette's Lock
<lst>What: Lock 23 of the C&O Canal, and the end of the 22-mile watered portion of the lower canal.
Where: Mile 22.1 of the C&O Canal towpath
How: Take River Road (Route 190 north) and turn left onto Violettes Lock Road, just before Bretton Woods Country Club. The turn is a half-mile before Route 112 and is easy to miss.
Why: Like Swain's Lock, this is a much quieter, less frequently visited portion of the canal. It is a popular spot with local birdwatchers, and for fishing enthusiasts — it is home to sunfish and smallmouth bass. It also is a popular spot for kayakers and canoeists and has easy shoots for beginners to get experience on rapids. As always, safety is urged in water sports and swimming anywhere in the Potomac Gorge – generally the area from above Great Falls to Theodore Roosevelt Island – is strictly prohibited.