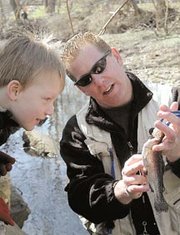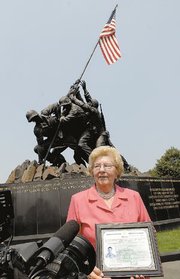 <bt>Every city has something that shapes its identity. In Washington, D.C., it's the monuments and museums. In New York, it's the multitude of skyscrapers. Chicago has the shore of Lake Michigan.
But in Arlington, perhaps its defining characteristic is that there isn't just one. For some, it can take the shape of an urban area with a burgeoning nightlife for young professionals. Others see it as the home to a litany of beautiful parks. And then there are those that come to get a glimpse of Arlington's historic landmarks.
But any way one looks at it, Arlington has something for everyone. And while this isn't a definitive guide of what to do on a given weekend, here's a sampling of what Arlington has to offer.
<sh>Visit
<bt>Arlington is full of historic places, the two most significant being the Iwo Jima Memorial and Arlington Cemetery.
Iwo Jima, or the Marine Corps War Memorial, is a life size statue of the original photograph of soldiers raising the flag at Iwo Jima during World War II created by sculptor Felix Deweldon. To this day, all major Marine Corps military engagements are engraved on the memorial's base. "It's something that everyone who visits the area wants to go and see," said Michael Petro, an Arlington native and current James Madison University student. "I've been there so many times, but I still enjoy it especially because of its great view of D.C."
Located on what used to be Civil War general Robert E. Lee's home is the Arlington National Cemetery. With 200 acres of land, more than 300,000 gravesites spanning from the Revolutionary War to present day conflicts, and over 4 million visitors each year, the cemetery is one of Arlington's famed tourist spots. The cemetery conducts about 100 gravesite services each week.
<sh>Theater
<bt>One of the first not-for-profit theaters in the United States and the first theater in this region, the Arena Stage was the first of its kind to have a production transferred to Broadway and the first to receive a Tony Award. It is located at1800 South Bell Street.
Founded in 1990, the Washington Shakespeare Company (WSC) is an organization for performing arts focused on recreating classic and contemporary classic works. Since 1995, the WSC has used the Clark Street Playhouse as their performance space. 601 South Clark Street.
<sh>Walk
<bt>For park lovers, there might be no better place to be than Arlington with approximately 1,100 acres of parks.
Bluemont Park offers over 70 acres of space with a paved walking/running trail that spans the park's stream. There are picnic tables, pavilion, tennis courts, baseball fields, playgrounds, and basketball courts. Address: 601 N. Manchester St.
Glencarlyn Park offers 96 acres of space with a nature trail, charcoal grills for cook outs, a stream, playgrounds, and designated areas for dogs and those who want to go fishing. " I love walking my dogs in the [Glencarlyn] park." said Kristie Gogo on a recent afternoon. "I can take them down into the park and it's always a pleasant walk." Address: 301 South Harrison St.
Lacey Woods Park is just 13 acres, but features one of the most extensive playgrounds in Arlington as well as the busiest outdoor basketball court in Arlington. It also has a picnic and pavilion area, a nature trail, charcoal grills and a fire pit that can be reached by following the nature trail. Located at 1200 N. George Mason Dr.
<sh>Eat
<bt>Whitlows on Wilson Bar and Grill, home of — arguably — Arlington's best hamburgers. Whether it's just the classic burger grilled to one's liking, a veggie burger, or the Avalanche — a burger piled high with double cheese, grilled onions, mushrooms, bacon, and mayo — there's something for every beef lover. The best time to come in and enjoy is Monday when Whitlows has its half price burger night. As well as serving mouthwatering food, Whitlows has a great bar scene with live music Wednesday-Saturday and trivia nights that some plan for a week in advance. Located at 2854 Wilson Blvd.
Tabbed as "the most authentic Mexican and Salvadoran cooking this side of the Rio Grande," Mexacali Blues offers traditional cooking from Mexico and El Salvador. Established in 1998, the restaurant has quickly grown from a small Tex-Mex place to a landmark in Clarendon where everyone gets their Mexican fix. It features entrees ranging from Tacos with any meat, including tongue for the brave souls who want to try it, to decadent enchiladas and scrumptious fajitas. Address: 2933 Wilson Boulevard.
Ted's Montana Grill is a family restaurant featuring made-from-scratch American Grill food. The menu has premium beef, Bison Association-certified bison, chicken and seafood. No item on the menu is more than $20. Address: 4300 Wilson Blvd., Suite 130.
<sh>Laugh
<bt>The Comedy Spot is a fun improv/comedy club located inside Ballston Mall. The club features different acts that cater to all ages. Although the movie theater is right next-door, there's always a steady stream of people attending comedy shows.
* "Comedysportz" — Fridays 8 p.m., Saturdays 7:30 p.m.; Show for kids of all ages
* "The Blue Show" — Fridays and Saturdays, 10 p.m.; Improv comedy for adults
* Open Mic Night — Thursdays, 7:30 p.m.