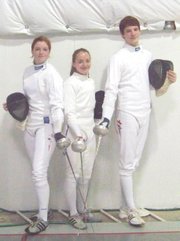 Given the choice between Ernest Hemingway and her brother's burgeoning fencing career, Nadia Eldeib chose "The Old Man and the Sea." Ace Eldeib had started taking fencing lessons after an in-class demonstration piqued his interest and repeatedly asked his sister to tag along and watch him at the Virginia Academy of Fencing in Springfield.
So Nadia Eldeib, 18, then a freshman at Edmund Burke School in Washington, D.C., finally relented. She didn't know much about the sport, but she would go and support her brother.
In the beginning of his career, Ace Eldeib did what most novice fencers do and took up foil, one of the sport's three main disciplines. Nadia Eldeib, after trying unsuccessfully to understand the sport, sat in the far corner, away from foil fencing.
Finally, two coaches at the academy approached Nadia Eldeib and asked if she had ever tried fencing. No, she said. Never. An offer was extended for her to try, but Nadia Eldeib declined. After all, Ace's weapon was right-handed. She was a lefty.
Still, Nadia Eldeib was less successful in avoiding fencing than she has been doing it. After finally agreeing to try the sport, Nadia Eldeib has fallen in love with it. And enough so, apparently, to continue her fencing career this fall at Harvard University.
"I never really thought I was going to do it because I was always into soccer, basketball and all the 'normal' sports," Nadia Eldeib said. "Fencing offers a unique combination of having to be physically strong and mentally strong and that really appealed to me because I've always been competitive.
"The adrenaline rush you get when you're fencing and fencing well is unlike anything I've ever experienced. It's just an amazing feeling"
Fencing has seen its popularity in the United States grow as well. At the 2008 Beijing Games, the United States captured six medals. For younger fencers, the International Fencer Council was developed two years ago to help promote scholastic fencing between high schools fencers.
<b>AT THE</b> Prince William Fencing Academy on Saturday, July 25, Ace and Nadia Eldeib arrived for practice before 9 a.m. It had been longer than usual since either had spent any significant time fencing and both looked forward getting back into it after about a two-week break from heavy competition.
During the first two weeks of July, both traveled to Grapevine, Texas for the 2009 U.S. Fencing Summer National Championships and returned, along with Kendra Sievers of Fairfax Station, with plenty to show for their efforts.
Ace Eldeib placed first in the Cadet (U-16) men's épée and also brought home medals in both Junior (U-19) and Youth (U-14) épée, placing eighth and third in those competitions, respectively. The gold medal was his third since the age of 10 when he burst onto the fencing scene by winning the U.S. National U-10 Youth competition.
In other action at Grapevine, Nadia Eldeib placed 13th in the Division I/Open Age group competition and captained the Prince William women's épée team that placed fifth at the Junior (U-19) competition.
Sievers, who won the Virginia Cadet (U-16) women's épée competition earlier this year, captured her first national-level gold medal in the Division III/Open Age Group women's épée. A rising freshman at Lake Braddock, Sievers started fencing when she was 10 after her mother insisted that she commit to a summer camp. Fencing, naturally, was Sievers' choice.
"I like how it's just not physical and you have to think ahead a lot," Sievers said. "You have to plan all these things out before you do them and you have to be very active. There are a lot of things going on with your mind and your body that you have to coordinate."