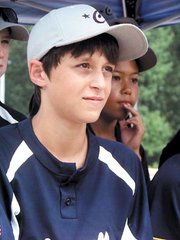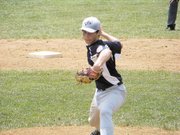 Slumps generally do not predict game-changing home runs. Or game-winning home runs. Or anything, really, besides continuing headaches, frustration and batting practice. But during the Chantilly American Majors All-Star team's state semifinal game with Central Chesterfield on Tuesday, July 28, Matt Hogle changed all that.
With one out in the bottom of the sixth inning, Hogle walked to the plate, lugging with him an 0-for-8 performance throughout the state tournament up until that game. In the second inning, Hogle beat out a dribbler to the left side of the infield, but he wasn't counting that as a hit. Here, he thought, was where he would finally snap out of the funk.
Hogle did and in a big way, too. With his two-run homer, Hogle ensured that Chantilly American would reach Wednesday night's Virginia state final against McIntire. For one game, though, Hogle was the hero. And he wasn't even trying to be.
"I just was thinking about getting a hit to move the guy over," said Hogle of the scenario that saw Colby Matthews on first base when his homer sailed over the center field fence at the Lincoln Lewis Vanoy Fields.
That Chantilly American was even in that situation was mystifying by itself. Down 11-4 after Central Chesterfield hit three home runs and scored six times in the top of the fourth, Chantilly American needed something to rejuvenate itself.
<b>THE FIRST SIGN</b> of a pulse came courtesy of Aaron Osborne's first homer of the game, a two-run shot that scored Andrew Kim in the bottom of the fourth inning. Osborne, who picked up the win by pitching a scoreless inning of relief, finished 3-for-3 with seven RBIs and two runs scored.
"When we got down a little bit, I said, 'We can come back. We've got the team to do it,'" said manager Sean Matthews, who guided his team to a District 10 championship last weekend by taking two games from SYA East. "It took that first run before I saw it back in their eyes again, but when we got that first run, all of a sudden they thought, 'Wow, we can do this.'"
Osborne, the team's No. 3 hitter and starting right fielder, doubted it would even happen. However, with his three-run shot in the bottom of the fifth, the comeback was complete as Chantilly American tied the score at 11.
"It feels really good to come back," Osborne said. "I thought we weren't going to pull it off. But we did."
"Aaron's bat is great," added Sean Matthews. "It doesn't get any better than that. He's been doing it time and time again for us. He's awesome."
Besides Osborne's prolific day at the plate, four Chantilly American players finished with three hits, including Mike Sciorra, Eason Recto and Colby Matthews, who, with his fourth-inning homer, matched Hogle's total of two RBIs.
With the score tied at 11, Sean Matthews had a decision to make. He had Hogle matched up with Keegan Kelly, meaning he could send either one up to bat. And despite Hogle's state tournament slump, Matthews was confident in Hogle as a hitter; however, in a bunt situation, Matthews admitted to possibly turning to Kelly.
But after Colby Matthews singled, Lukas Foley struck out and Matthews didn't want to bunt a runner over to second with two outs. So he let Hogle swing away, which turned to be not such a bad idea.
"I was hitting terrible in the beginning and all of a sudden I hit it over," Hogle said. "When you're in that situation, you're not really thinking about a home run."