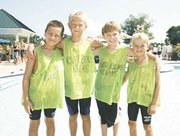 <b>Senators Force Playoff</b>
With an 11-0 victory Monday night in its last regular season game of the summer, the Vienna Senators forced a one-game playoff against the Carney Pirates that will decide first place in the Clark Griffith Baseball League (CGL) regular season.
The game is scheduled for Wednesday night at Paul VI High School, after the Connection's deadline. Both the Senators and Pirates had identical 29-9 records heading into the match-up. The winner will get the No. 1 seed in Thursday's Jacobs Cup, the CGL's double elimination postseason tournament.
On Monday night against the D.C. Grays, Vienna made certain it remained in control of its own destiny, scoring three first-inning runs. A collection of D.C. wild pitches and errors allowed the Senators to take an early lead. Left fielder John Barrett followed with his sixth homerun of the season in the third inning. Later, as the Senators stretched their lead, Oakton graduate and current Maryland shortstop Alfred Rodriguez hit his first homerun of the summer. First basemen Jamie Bruno also went yard, finishing with three RBIs.
Starting pitcher Jose Sanchez was equally impressive, giving up just five hits over seven innings. He struck out seven. The Senators have won nine league championships since 2004
<b>Swim/Dive Results</b>
The NVSL season concluded for most swimmers this past weekend with the annual end-of-season divisional meets. Here's a recap of contributed material detailing some of the times and scores achieved by local swimmers and divers.
The RiverBend StingRays proved they were a force to be reckoned with during the Dominion Country Club League All-Star Meet. Fifty-four RiverBend swimmers were selected as All-Star nominees or alternates and 28 swimmers advanced to finals on Sunday at Westwood.
RiverBend earned 58 medals, including 12 of 48 firsts. Will Koeppen broke the oldest record in the DCCL, which was set in 1976 in the 8-and-under 25-meter freestyle with a time of 16.23, and then crushed the 25 fly record with a time of 18.36. Jess Hawken broke both her 15-18 50 free and 50 fly league record times, lowering the mark to 27.44 and 29.37, respectively. Micaela Grassi lowered the club record in 9-10 fly to 16.57. Other first place finishers included: Luke Peele, Emma Grassi, Devlin Wesolowski, Jack Peele and Max Trautwein.
The Washington Golf swim team continued its winning ways on July 21, taking top honors (324 points) in the CCSDA Division A Championships held at Congressional Country Club. Leading the charge with two first place finishes were Richard Gentry and Mason Nassetta. Single wins were contributed by Ryan Baker, Daniel O'Berry and Peyton Nassetta. Gentry and Peyton Nassetta set new team records in the 8-and-under fly events and Baker added a new record to the boards in the boys' 12-and-under backstroke. The junior medley relay teams of Erin Stuver, Kirby Nassetta, Alston Offutt, and Peyton Nassetta and Richard Gentry, Ryan Baker, Ian Stuver, and Grant Welch took top honors, as did the boys graduated free relay team of Richard Gentry, Grant Welch, Ryan Baker, Daniel O'Berry, and Brian Murphy. The team concludes its season this week with the C.C.S.D.A. Swimming Championships, which features all 15-member clubs of the league.
Langley Club boasted 11 division champion swimmers and broke eight team records at its Saturday divisional meet. There were four double winners, including Isaac Peress (9-10 free, back), Jinwon Bailer (9-10 Fly, IM), and Nathan Johnson (11-12 back, breast). First place finishes were also posted by: Jack Hoeymans (8&u free), Tatiana Bennett (9-10 free), Elena Shklyar (9-10 IM), Schuyler Bailar (13-14 IM) and Meghan Overend (15-18 free). The team also broke eight team records at the meet: Isaac Peress (9-10 back) with a time of 36.59, Jinwon Bailar (9-10 fly and IM) with times of 16.46 and 1:23.29, Elena Shklyar (9-10 IM) with a 1:29.60, Nathan Johnson (11-12 back) with a 34.42, Katie Robinson (11-12 back) with a 35.93, Schuyler Bailar (13-14 IM) with a 1:14.00 and Meghan Overend, who broke a 40-year-old record with a time of 30.89.
The Dunn Loring Dolphins fell to Sideburn Run 42-30 in the final diving dual meet of the season for both teams. For the Dunn Loring Dolphins, Kari Eskeland and Greg Duncan took first place in their events with Duncan setting a freshman boys pool record. Second place Dolphin divers were Chelsea Taylor, Zoe Scopa, Tommy Driver, Kelly Corish and Sean Ryan, who set a Dunn Loring record for senior boys. Third place finishers were Rachel McFaul, Neal McElhattan, Bradley Cazenas, Rachel Waldron, and Chris Jacoby.
<b>Youth Baseball</b>
The Vienna Colonial 11-12 All Stars had a great run this year in the District 4 tournament. With the best record in the tournament (6-1), they went to the District championship and held the lead in the final game up until the fifth inning. Lead off hitter and star pitcher Andrew Asher came out of the tourney with a 3-0 record and an ERA of 0.00. His other team members, Brian Eckert, Garrett Zoukis, Fitz Stein, John Bennett, Connor McGrath, Mike Trivisonno, Brian Lenert, Chris Anzilotti, Charlie Via, Noah Dunlap, Nick Fogel and starting catcher Mitch Blackstone combined for a team batting average of .410, hit 16 home runs, outscored their opponents 59-14. In spite of two home runs by first basemen and pitcher Fitz Stein, the Colonials lost in the championship game to a McLean American team they had previously defeated in the tournament, 5-0. Thanks go out to manager Pat Via, coach Steve Fogel and pitching Coach Brian Plombon for a job well done with these young men.