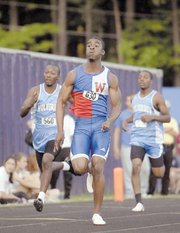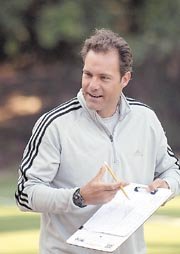 <b>State Track Results</b>
The VHSL AAA State Outdoor Track and Field Championships were held in Newport News, Va. this past weekend and, no surprise, T.C. Williams star Tynita Butts emerged with another state title in the girls' high jump.
The East Carolina bound athlete jumped 5-feet-10 inches to capture the state crown — her second consecutive state title in the high jump — over Pearl Bickersteth of Potomac High School. She also took home the national indoor title in the high jump this past winter. Butts finished a disappointing 22nd in the long jump. Her win in the high jump helped the Titan girls' to a 21st place finish in the team competition. The boys' team came in 35th place.
Other notable performances by T.C. Williams athletes came from the Titan boys' 4x100-meter relay team, which took fourth place in the state. The team consisted of seniors Rushane Wilson and Reward Asonye and juniors Cortez Taylor and Ayolesi Coker. Wilson and Taylor finished 20th and 21st, respectively, in the 100-meter dash competition. Asonye came in 33rd with a time of 11.36 seconds.
In field events, senior Marc Grosser took 16th place in both the triple jump and high jump competitions, while senior Latona Jackson finished in 16th place in the discus throw. Senior Zachary Goehler took 19th place with a throw of more than 134 feet in the boys' discus throw.
<b>Swim Results</b>
The NVSL summer swim season is right around the corner and the Gazette Packet doesn't want any child's prowess in the pool to go unnoticed. To have swim team's results posted in the Gazette Packet each week, contact sports editor Mark Giannotto at mgiannotto@connectionnewspapers.com.
<b>Sportsman's Club Awards</b>
On May 20, the Alexandria Sportman's Club held its 54th annual awards banquet celebrating the achievements and prowess of those on the Alexandria high school sports scene. Bishop Ireton athletic director Williams Simmons took home Sportsman of the Year honors, while Episcopal High School boys' soccer coach Rick Wilcox was named coach of the year after leading the Maroon to an undefeated season and a VISAA state title this past fall.
In addition, the club once again handed out four $2,500 scholarships to Alexandria high school seniors. The recipients of this year's scholarships were Zachary Goehler and Danielle Thomas of T.C. Williams (TCW), Yao Sithole of Episcopal (EHS), and CK Kraft of Bishop Ireton (BI).
Winners of awards by individual sport were: Reid Nickle of EHS, cross-country; Adam Stowe of EHS, golf; Ashley Hunter of SSSAS, field hockey; Evan King of EHS, football; Kevin Otto of BI, ice hockey; Tierra Ruffin-Pratt of TCW, girls basketball; Edward Jenkins of TCW, boys basketball; Elliott Mondragon of BI, wrestling; Theresa Dalmut of BI, volleyball; Jessie Coffield of SSSAS, girls lacrosse; Andrew Cordia of SSSAS, boys lacrosse; Monica Zakaria of BI, girls tennis; Michael Parente of BI, boys tennis; John Robertson of BI, baseball; Mary Wells Ball of TCW, girls crew; Matt Schilling of TCW, boys crew; Mackenzie Soniak of BI, girls swimming; Larry Dow of TCW, boys swimming; Tynita Butts of TCW, girls track; Allante Keels of EHS, boys track; Taylor Heasley of SSSAS, softball; and Given Kalipinde of EHS, soccer.
<b>Alexandria Aces</b>
The Alexandria Aces of the Cal Ripken, Sr. Collegiate Baseball League kicks off their second season this Friday Night at Frank E. Mann Field in Four Mile Run Park with a special dedication of the field beginning at 6:30 p.m. City of Alexandria baseball and softball players will receive free admission if they wear their league uniform. If there's inclement weather, the dedication will be moved to the Cora Kelly Recreation Center.
In addition, the Aces are still looking for host families to house some of their out-of-town college players. This summer approximately 30 young men from all over the United States will descend upon the Alexandria area for the summer to play baseball. From early June to early August they will play 42 games in 60 days. A host family is only asked to provide a warm bed and access to a washer and dryer. The Alexandria Aces handle the rest. To volunteer as a host parent/family, contact Hilary Garner at 202-216-8304 or email Hilary at hgarner@ralaw.com