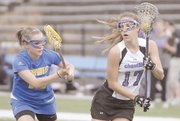 It's hard to miss Chantilly's Katie Stillwell on a lacrosse field. She's usually the one who maintains her defensive responsibilities yet, as a midfielder, conserves enough energy to facilitate her team's offense. She's also done enough, apparently, to earn a Division I scholarship to play collegiately at William & Mary.
Oh, and she's also the one who scores quite frequently, too. Sixty times this season.
So after the Chargers' Virginia AAA state semifinal game against Loudoun Valley Tuesday night, which resulted in a 14-9 win for the local team, there was understandably more than a few folks wearing purple that left Westfield High School confused at the freedom Stillwell was granted.
"I don't know what it was. I was surprised," said Stillwell, who scored eight times and added a pair of assists. "One time I went down and there was literally no one on me. I was really shocked that I was wide open. It wasn't so much one-on-one, but I was able to cut and get open."
Loudoun Valley's efforts weren't completely misguided, as the Vikings did spend the better portion of the evening shadowing Brittany Griel, a senior midfielder who has scored 68 goals this spring and totaled 94 last season.
But the fact that Stillwell didn't become more of a focal point is what mystified Chantilly coach Michele Gates.
"I'm kinda confused why they were face-guarding Griel the whole game and they didn't make the adjustment," Gates said. "'Stilly' was money all night. But with the firing power we have, it's hard to adjust to everybody on the field."
The win vaulted Chantilly (20-2) into Saturday's 6 p.m. Virginia AAA state title game with Robinson, a team Chantilly has met three times this season and lost to twice, including heartbreaking defeats in both the Concorde District and Northern Region championship games.
<b>STILLWELL'S FREEDOM</b> started to become evident late in the first half. With five minutes left before the break, Stillwell found herself about 25 yards away from the goal and with about 10 yards of separation from the closest Loudoun Valley defender.
Given time to think and space to operate, Stillwell lofted a pass to midfielder Liz Dunwoody, who was stationed to the right of the cage and finished Stillwell's pass perfectly to push Chantilly ahead, 5-2.
Then with less than two minutes before halftime, Stillwell, on her own now, was able to make a run down the center of the field — untouched -- and she fired a shot over the left shoulder of Loudoun Valley goalkeeper Kelsey Luck.
In the second half, Loudoun Valley's Sophie Swan scored to cut Chantilly's lead to 9-5 with 22:36 left before Stillwell notched three straight goals to push the game out of reach.
The first goal in that sequence came when Griel left a pass for Stillwell in the middle of the offensive zone, and she completed another unchallenged sprint to the cage.
Stillwell's anonymity will surely change against Robinson. Through her club program, Capital Lacrosse, Stillwell knows the majority of Robinson's team, including senior attack/midfielder Megan Dunleavy, who scored five times to lead the Rams to an 18-5 victory over Broad Run in their state semifinal game.
And if there's one matchup that Stillwell and Co. could've hand-picked for the state final, it involved Robinson.
"I know a lot of girls on that team, and it's just great competition," Stillwell said. "I'm excited to play them. They're a great team, and hopefully this time we'll come out victorious. I feel like we could've won those [previous two] games, we just have to finish it."