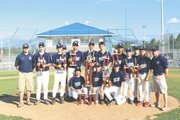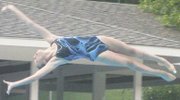 <b>Copperheads Take States</b>
The South County Copperheads beat the Richmond-area Hanover Heat, 9-4, on Sunday, June 21 to win the USSSA-sanctioned U-13 Virginia AAA state tournament at the Virginia Sports Complex in Ruther Glen. This marked the Copperheads' fourth tournament championship win for the spring season. The Copperheads also prevailed in the Virginia Sports Complex Commonwealth Classic in March, the Cougar Clash in April and the Virginia Sports Complex Bring the Heat Tournament in May. The Copperheads will conduct tryouts for their fall 2009 roster at Occoquan Regional Park's Field No. 4, 9751 Ox Road, Lorton, on Thursday, July 7 at 6 p.m. Learn more about the Copperheads at www.southcountycopperheads.org or contact coach Rick Gentry at ricmikjon@yahoo.com.
<b>Ram Golfer Shines</b>
Alexandra Austin of Burke won the Middle Atlantic Golf Association's Junior Girls Championship on Wednesday, June 24. The rising junior at Robinson Secondary School shot a career-low round of 39-39-78 to take the title by one stroke. International Country Club of Fairfax hosted the 51st annual event.
"I made four birdies," Austin said, "but I also made four double bogeys."
Austin spoke proudly of her putting, especially several important par putts. "I made some long ones," she said.
Austin, who plays on the Robinson boys' golf team, has won twice and gained seven, top-10 finishes since 2007 on the Plantation Junior Golf Tour.
She will play in a prestigious American Junior Golf Association tournament at the Nemacolin Woodlands Resort in Farmington, Pa. on June 30-July 3. The following week, Austin will play at her home course, Springfield Golf and Country Club, in the Bobby Bowers Memorial.
<b>Lowery Lowers Records</b>
Roman Lowery broke two longtime Fairfax Station pool records during a meet against Overlee on Saturday, June 27, a meet the Flyers lost, 279-123. A year ago when he was 8, Lowery broke the Northern Virginia Swim League's 25-meter backstroke record, and, as a member of the 9-10 boys' division on Saturday, he bested pool record from 2001 in the 50 back with a time of 37.45 seconds. He also broke a 13-year-old pool record in the 25 butterfly, posting a time of 16.00. Other winners for the Flyers included Faith Lowery (U-8 girls' freestyle and breaststroke), Theresa Boyd (U-8 girls' back), Alex Saffran (13-14 boys' free and back), Cory Hansen (13-14 boys' fly), Robbie Munch (15-18 boys' back) and Ricky Munch (15-18 boys' breast). The U-8 girls', 13-14 boys', 15-18 boys' and the mixed-age boys' relay teams were also victorious.
<b>Diving Right In</b>
The Fairfax Station dive team won its first meet of the season last Tuesday, June 23 by a score of 52-16 over Great Falls. First-place finishers included Emily Weidner, Tyler Hazard, Mackenzie Wessling, Zach Monday, Molly Rowland, Andrew Pascual, Ray Skaddan.