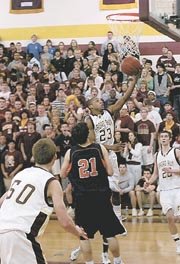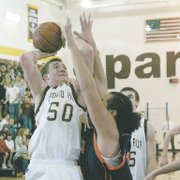 It was a tough way to end the season for the Broad Run High boys basketball team.
The Spartans, one win away from qualifying for their first Virginia State AA playoff appearance, had overcome a first-half 13-point deficit in last Thursday night's Region II, Division 4 semifinals playoff game against Orange High. In front of their boisterous, enthusiastic partisan home crowd, Broad Run, the recently-crowned Dulles District champion, had surged back and taken a lead in the latter stages of the third quarter.
The game then went back and forth for several minutes. When Broad Run senior guard Breon Earl, who played a spectacular second half of basketball, converted an 18-foot jumper from the right wing a couple minutes into the fourth period, the Spartans held a one-point advantage.
But that is when the guests from the Jefferson District put a final spurt together — one that resembled the early stages of the contest when they jumped out to a 15-6 lead. This time, the Fighting Hornets went on a 10-2 tear that gave them a seven-point lead with less than two minutes to play, all but putting the game away. Orange went on to win the game, 65-59, earning a meeting with Charlottesville High in the title game.
Broad Run, though it lost, had fought hard all the way and given their fans a thrill in the exciting postseason game. The Spartans had nearly overcome a 37-26 halftime deficit.
"We stayed together as a team," said Earl, who led Broad Run's comeback charge by scoring nine of his team-high 15 points in the third quarter. "When they were up by 11 points at halftime, we stuck together. We started doing what we do best [after halftime] — playing defense, rebounding and getting in transition."
<b>EARL MADE THINGS</b> happen for his team after halftime. He scored on hard drives to the basket as well as on medium-range jumpers and he also found open teammates such as big men Will Field (14 points, 10 rebounds, two blocked shots) and Kevin McGaughey (10 points).
"He was terrific," Broad Run coach John Costello said of Earl. "He went out the way a senior should go out."
Orange ultimately regained the momentum and won, thanks in large part to the play of 6-foot-3 senior Quintin Hunter, a guard-forward player who recently signed a scholarship to play collegiate football at the University of Virginia. Hunter scored a game-high 28 points with 12 rebounds.
Most of his points came inside the lane off of drives to the hoops, rebound follow-ups or jump shots within the lane. But he also connected on outside shots, including one 3-pointer. Following Earl's basket that had given Broad Run its final lead at 51-50 early in the fourth quarter, Hunter took charge of the game by scoring his team's next three baskets, leading Orange to the win.
<b>BUT HUNTER</b> had a good supporting cast of talented players capable of making huge plays. Perhaps the biggest play of the game came during Orange's final quarter scoring spree when 6-5 senior forward Dennis Brown (seven points) shocked the Spartan faithful with an unbelievable sequence in which he blocked a driving shot by Earl before running down the loose ball, dribbling down the court on a breakaway and slamming the ball into the basket on a one-handed dunk shot. That gave the Hornets a 58-53 lead with two minutes, 35 seconds left to play.
"Orange is awesome and very athletic," said Costello, whose team finished 20-6 in his first season at the helm. "They have smart players. I think they shot well in the beginning [of the game] and kept their composure in the third quarter."
Orange, which had captured its district tournament title the week before, beat local team Potomac Falls (Dulles District) in a quarterfinals region playoff game earlier last week at Potomac Falls, 75-66. It marked the second straight year in which Orange eliminated the Jeff Hawes-coached Panthers at regionals.
"Potomac Falls has a great coach," said Orange coach Keyo'de Rogers. "He has a young team and they have a great future ahead of them. They battled to the end."
Following its win over Potomac Falls, Orange was determined to defeat Broad Run in the semifinals. A year ago Orange had seen its season end with a semifinals playoff loss to Millbrook High (Winchester) in the semis. This year, the Hornets were looking to take that next step and make it to the region title game.
But Rogers said nothing was easy against Broad Run, which gave Orange everything it had.
"This was a great atmosphere for the kids to play in," Rogers said of the exhilarating playoff fever felt throughout the Broad Run gym. "[Broad Run] has a great team. When you play against a good team like that, you have to come out hyped. They have a good overall team. [Earl] put them on his shoulders in the third quarter and I have to give credit to their big men. Broad Run picked it up on defense [after halftime]."
Costello said his team played outstanding in the third quarter, as it outscored Orange 21-11 over the eight minute stretch. But the Hornets regrouped in the final quarter to win.
Still, it was a great season for the Spartans.
"This is the best [basketball] team I've been on," said Earl. "We had chemistry and we laughed in practice. And we knew when to get it going. We had great coaching."