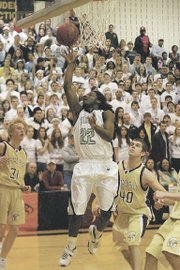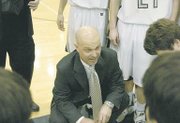 Dominion High boys basketball coach Steve Douglas calls this the year of "firsts" for his Titans' program. Indeed, it has been a breakthrough winter for Dominion, in its sixth season of existence as a program.
"There have been a lot of 'firsts,''' said Douglas.
Those "firsts" include winning the regular season Dulles District title, winning both of its regular season meetings against district rivals Park View and Potomac Falls, reaching the district tournament finals, qualifying for both regionals and states and winning 20 games.
That's quite a season for a team that was .500 a year ago.
"It's been an opportunity for us to get a feeling for what winning is all about," said Douglas. "It's like getting a new car."
Dominion's quest for a first Region II, Division 4 title fell just short last Saturday night when the Titans lost to Handley High (Winchester), 60-53, in the region finals game played at Orange County High School, located outside of Charlottesville.
Despite the setback, Dominion (21-7) is set to compete at this weekend's state AA tournament. The Titans are scheduled to meet Brunswick High (Lawrenceville) in a quarterfinals round game this Saturday afternoon at the Seigel Center in Richmond. Tip-off is scheduled for 3:30 p.m.
The Titans automatically qualified for the eight-team state tournament when it defeated William Monroe, 40-38, in a Region II semifinals contest last Thursday at Dominion.
Dominion's state playoff appearance marks just the third time in Loudoun County history in which a boys basketball team has qualified for states. The prior two teams to make it were the 1988 Loudoun Valley team and the 2002 Loudoun Valley squad.
Ironically, Douglas was a player on the '88 Valley team that captured the state crown with a finals win over Brunswick High at University Hall in Charlottesville. The coach of that Loudoun Valley team was Scott Douglas, Steve's dad.
"It's very exciting," said Steve Douglas, of guiding a team to states as a coach after having experienced a state tournament as a player. "To get a chance to play in the state finals and now to coach in the state [tournament], I'm tickled to death. You have to have good talent [around you]."
<b>CERTAINLY</b>, this year's Dominion squad has got the talent. But, in the region finals loss to Handley (Northwestern District), the Titans could not get things going on offense.
"On that [region] stage, we did not execute really well on offense," said coach Douglas. "As the tournament goes on you play better and better teams and Handley is tough. They are very athletic and played better than we did. We really just didn't execute on offense."
Douglas said it was not a bad case of nerves that resulted in the offensive struggles. He said plays were called during timeouts or as Dominion was bringing the ball up the floor. But the Titans just didn't run what the coaches wanted them to.
"I went back and watched the videotape [of the game] and we just didn't run any of them," said Douglas. "We didn't get into an offensive flow."
Most frustrating for Dominion is that the game was winnable, despite the team 's poor play in execution. The Titans, down 13-0 after one quarter, found themselves in a 31-31 tie midway through the third quarter. But a while later, Handley, following an 8-0 run, had built up a 14-point lead. Dominion continued to play hard but could not come back.
Dominion senior guard Deandre Albritton led the Titans with 22 points, eight rebounds and two steals. Backcourt mate Deandre Reaves, a sophomore, added 15 points and senior shooting guard Greg Smucker had eight. Albritton scored 10 of his points in the third quarter to help Dominion tie the game up.
"He's always going to keep us in it," Douglas said of his star player. "We just didn't get the team effort we've gotten in 20 wins this year."
The consolation for the Titans is that their season continues, despite the region finals loss, with this weekend's first round tournament action at states.
"It's very exciting and a new experience for us all," said Douglas.
<b>DOMINION'S REGION</b> semifinals victory over William Monroe (Stanardsville) — a win that advanced the Titans to the finals and automatically qualified them for states — went right down to the wire. Albritton came through with two clutch free throws to give his team a 39-37 lead with three seconds remaining in the fourth quarter.
"He just nailed both of them," said Douglas.
Following the foul shots, a controversial blocking foul call against Dominion — as William Monroe was trying to inbounds the ball for a final shot attempt — resulted in the Dragons going to the foul line themselves. The Monroe player at the line made the first free throw to cut the Dominion lead to 39-38, but missed the second. Dominion senior Travis Blackburn got the rebound off the miss and was immediately fouled. He made one of two foul shots from the line to make the score 40-38 and the Titans held on for the win.
"The [final] score was only 40-38, but I thought that was the best team we've played all year long," said Douglas. "They had some players. We played great defense. We played real solid man-to-man defense and kept their scoring in check."
Dominion trailed William Monroe by five points with four minutes left to play. Douglas said his team turned up the defensive pressure at that point. Key steals from Albritton, Reaves and Smucker resulted in key points and the Titans overtaking the Dragons.
Albritton finished with 19 points in the semifinals win and Steve Smucker, twin brother of Greg, scored nine.
Douglas has marveled at the school spirit the Dominion High student body has demonstrated throughout the season and on into the playoffs.
"We let them down a little bit at the region finals, but I'm real proud of the student body," he said. "They are there for us and they are our 'sixth man.' We've got the best fans in the county."