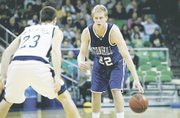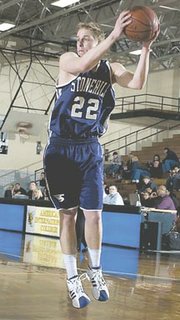 On recruiting trips to scout high school talent, college basketball coaches who attend various AAU tournament around the country are used to seeing up-and-down play, high-flying dunks and kids that can clear a Volkswagen with a single leap.
Colin Scanlon wasn't one of those kids. Quite the opposite, really. As Stonehill College men's basketball coach David McLaughlin saw Scanlon at an AAU tournament in Delaware prior to the Flint Hill graduate's senior year, McLaughlin was attracted to Scanlon for the opposite reason.
The game slowed down, McLaughlin remembers of the moment, when the ball was in Scanlon's hands, and the coach noticed his future player's brain at work instead of his body.
"I really liked that," McLaughlin said. "He was looking for certain decisions, not taking the first shot that showed and getting his teammates involved. The more I watched him, the more I saw. And obviously he had a bit more of a scoring role with his Flint Hill team, but you could really see all those fundamentals carry over."
"One of the best assets of my game is that I see the floor pretty well," Scanlon added.
For the past four years at Stonehill, Scanlon, a Centreville native, has looked equally as smart. A three-year starter, Scanlon is averaging 4.5 points, 3.6 assists and 4.2 rebounds per game this season while playing a team-high 30.7 minutes a night.
<b>SCANLON HAS</b> started at least once at every spot on the floor for Stonehill, and, while listed at 6-foot-5, 205 pounds, he also serves as the team's No. 2 point guard.
"I pride myself on being a team guy, and it's all about winning," Scanlon said. "I came in as a freshman and had played guard throughout high school. [McLaughlin] kind of threw me at a forward spot just because of the personnel we had at the time -- we were kind of thin on forwards -- and it actually benefited my game a lot because it gave me a perspective from another position."
Despite not having led the Skyhawks in scoring all season, Scanlon has found other ways to make his presence felt, namely on the defensive end of the court. As of Wednesday morning, Stonehill was tops in the Northeast-10 Conference in scoring defense at 61.2 points per game.
And though individual defensive statistics are sometimes hard to tabulate and compare, Scanlon has his coach's vote for the best defensive player in the league, even if the Northeast-10 selected Massachusetts Lowell's Max Kerman as its Defensive Player of the Year.
"We have him guard the other team's best player night in and night out, and he's done that at a very high level this year," McLaughlin said. "He does a lot of things that don't show up on the stat sheet necessarily."
Stonehill suffered an 80-66 loss to LeMoyne in the Northeast-10 quarterfinals Tuesday night and will await word until Sunday evening on whether or not the Skyhawks (21-7) will receive an at-large bid to the NCAA Division-II tournament.
<b>ALTHOUGH HE</b> initially attended Westfield -- his brother, Peter Scanlon, recently wrapped up his senior basketball season there -- Colin Scanlon elected to transfer to Flint Hill after his junior season.
Flint Hill helped him grow as a player and, after he re-classified and entered the school with two years remaining before he would graduate, also helped him grow as a human being.
Scanlon spent two summers playing for NOVA United, the AAU team that McLaughlin found his freeze-framing recruit on, and chose Flint Hill for the opportunities it provided both academically and athletically.
"It was kind of a big risk, but it definitely paid off," Scanlon said of transferring to a private school.
Colin Scanlon admitted that Stonehill likely won't be on his younger brother's short list come decision-making time, but if Peter Scanlon's abilities resemble anything close to that of his brother -- and they do -- another college coach will likely share the same, enjoyable experience that McLaughlin has for the past four years.
"He's a leader and a really bright basketball player," McLaughlin said. "He has a high-level basketball IQ. He's a kid that you like to be around every day because of how he approaches the game."