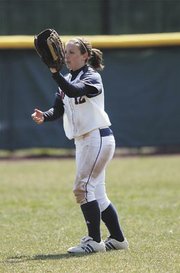 For three years, Anna Puglisi had hoped that her softball team, the Division-I Pennsylvania Quakers, would return to her hometown and play George Mason University. And for three years, Puglisi has been sorely disappointed.
But during a workout early last fall, Quakers coach Leslie King approached Puglisi and told her that the team had decided to play in the 2009 Patriot Classic softball tournament at the end of February.
Puglisi's dream to return to a softball diamond near home became reality this past weekend, as Pennsylvania played two, six-inning games on Friday -- both lopsided losses -- and one more on Saturday, taking a 6-1 win back to Philadelphia.
"Getting to play my senior year in Virginia and having my family and friends there that was exciting," said Puglisi, a 2005 Lake Braddock graduate and Springfield native. "My teammates were all excited because they knew we were really close to my home, and they've heard a lot about Virginia."
Puglisi's collegiate debut at home may have been just as unusual as the fact that, at 5-foot-nothing, she's playing high-level college softball. Mildly recruited out of high school, Puglisi has found a home at Pennsylvania, developing into one of the team's captains this spring.
<b>IN HER FIRST</b> at-bat on Friday, Puglisi recorded her first hit of the season. It could also hold up as her strangest. With a swing that helped her earned first team All-Patriot District honors twice at Lake Braddock, Puglisi, a left fielder, lunged after an outside pitch.
But as she ran to first base, the ball, traveling no farther than 5 feet from home plate, fell in front of St. Joseph's catcher Brooke Darreff and plugged itself into the mud-dirt mix that was produced with last week's rainstorm. Puglisi didn't record another hit during the three-game set, finishing 1-for-6.
The unusual trip continued when Pennsylvania's games on Sunday were canceled because of the inclement weather, ending the trip a few hours early as the team traveled back to Philadelphia on Sunday morning.
Though Puglisi's teammates supported her and echoed her enthusiasm for the trip home, they were caught off guard by what Fairfax County looked like.
To those who live close to Pennsylvania's suburban Philadelphia campus, Fairfax is a far cry from the north. When Puglisi talks about where she was born and raised, most teammates insist that she's from a desolate farming town.
"They expected it to be a lot warmer for some reason," said Puglisi, who, along with her team, endured substantial winds and cold temperatures on Friday and Saturday. "They don't really know about suburban Virginia."
<b>PUGLISI HAD</b> grown up around softball. Her father, Rob Puglisi, has the head coach of the Fairfax Blue Jays fastpitch team for the past 11 years and started coaching his daughter when she turned 10, first starting to play catch with her when she was 6.
The Blue Jays produced three players on George Mason's roster: shortstop Rachael Davies (Osbourn Park), pitcher Brianne Pease (Centreville) and utility player Morgan Davis (Madison). Another Mason pitcher, Oakton graduate Becky Anderson, plays summer ball with Puglisi for the Fairfax County Women's Fastpitch League.
"It really is a big testament to their determination and their dedication to something, because it's not easy to play at that level," Rob Puglisi said. "A lot of kids are promoted as big-deal high school players, but they don't really succeed much after that. These kids have busted their butts, and they're playing at a level that most people only dream about playing."
When Pennsylvania coach Leslie King first noticed Anna Puglisi on a recruiting trip, she nearly had to invent a word to quantify what she saw. King calls Puglisi "nuggety," which translates best as a sort of scrappiness. By far the shortest player on her team, Puglisi has always had to answer questions about her height and was told by a recruiter in high school that she'd never play Division-I softball.
But Puglisi made 41 starts for Pennsylvania last season, hitting .165 (25 for 137) with 10 RBIs and 41 runs scored, and her signature moment came during an April 6 game with Dartmouth when she hit her first and only collegiate home run.
"Being small in stature, she kind of had that chip on her shoulder where she felt she had to do more to stand out," King said. "She's that nuggety competitor that every team needs."