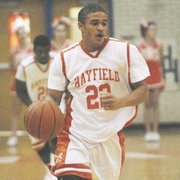 RICHMOND -- If Hayfield would've won its region, it could've felt the same energy that Petersburg fed off of Friday night, March 6, as the Wave's best player, 6-foot-9 senior center Cadarian Raines, a Virginia Tech recruit, finished a pair of dunks to start the fourth quarter.
The four points gave Petersburg a 47-38 lead but their true value was immeasurable. With each dunk, nearly 5,200 fans at Virginia Commonwealth's Siegel Center rose to their feet and applauded what appeared to be the home team.
Located just outside of Richmond, Petersburg nearly was. The Wave, champions of the Central Region and owners a first-round playoff game closer to home because of it, traveled well -- and traveled home -- with a 59-48 win over Hayfield in the Virginia AAA state quarterfinals.
"We try to use what we have to our advantage," Petersburg coach Bill Lawson III said. "When they're in the paint, we want them to dunk."
"I like playing in front of big crowds," countered Hayfield's T.J. Wilson. "When the hometown crowd is loud, I like it. I like trying to prove people wrong."
Hayfield coach Ron Palmer, a veteran of 25 years of work at California's Long Beach Polytechnic High School, has encountered a few larger-than-average teams. Most of the time, he's been able to employ a slower, drawn-dawn offense that, while it may be difficult to execute, has also been effective.
"I've played games like this and I know how to frustrate big people," Palmer said. "I felt like if we could get into the fourth quarter [within four or five points], it was anybody's game."
Normally one of the Northern Region's top three-point shooting teams, Hayfield shot only one for 12 from long range, with Chad Canady going one for seven. Canady led the Hawks with 11 points and Rayshawn Rigans recorded a team-high six assists.
The win dropped Hayfield's final record to 21-8, while Petersburg stayed unbeaten at 30-0. The Wave will play the winner of a quarterfinal match-up between King's Fork and George Washington-Danville Wednesday night.
The first quarter featured six lead changes, with Hayfield taking a 13-10 edge after a Canady 3-pointer and layup with 52 seconds remaining. But Petersburg's Chris Evans put the Wave back in front early in the second period with a steal at midcourt and a thunderous one-handed slam.
Raines was held scoreless in the opening period, while Tyre Desmore had six points to lead all Petersburg scorers. Canady's five was tops for the Hawks.
The Hawks hit a bit of a skid early in the second, as they didn't convert a basket until almost four minutes into the period when a nifty spin move from Canady made it 17-15.
Late in the second period, Petersburg mounted a 7-2 run that started with Chris Moore's layup at 2:53 and came to a halt when Laurent Newsome scored from in tight with five seconds remaining, pulling Hayfield to within three at the break, 26-23.
As a team, Hayfield shot 44 percent from the field in the opening half, compared to 57.9 for Petersburg. Newsome finished with a team-high 10 points in the opening 16 minutes, and also tied Canady for the team lead in rebounds with four.
Brandon Winbush opened the second-half scoring with a layup 11 seconds in but, after a Wilson tip, Petersburg responded with an 8-0 run to take a 34-27 lead at 4:57. With Hayfield trailing 35-34 after a basket from Tayron Gibson, Petersburg answered with an 8-2 run to pull ahead, 43-36 with 43 seconds left in the third quarter.