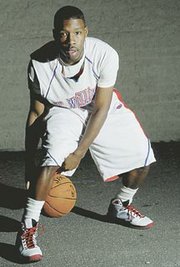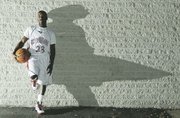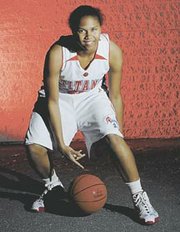 There were 40 seconds remaining in the Northern Region finals on Feb. 28 and the T.C. Williams boys' basketball team was up just four points on Patriot District rival Hayfield when star player Edward Jenkins decided to joke around with the media surrounding the court.
He had just dove head first into the collection of scorer's tables that made up press row at Robinson High School trying to save a loose ball. On the previous possession, Jenkins had completed a smooth three-point play to give his team its somewhat comfortable cushion.
And although the save attempt wasn't successful, Jenkins still got his two cents in, as he laughed and made sure everyone — including the computers and sound equipment he had nearly broken were all in reasonable condition. Mind you, the 5-foot-10 guard was in the midst of one of the biggest moments during one of the biggest games of his career.
But that's Edward "E.J." Jenkins — an undersized, yet talented player with an insatiable work ethic who, for better or worse, has never heard of the phrase silence is golden.
"He's a small guy, but I guess he has a lot to say," said T.C. Williams coach Julian King.
This basketball season, Jenkins' actions spoke louder than his constant stream of words and he has been named the 2008-09 All-Connection Boys' Player of the Year as a result. The senior averaged more than 21 points, five rebounds, five assists, and five steals per game while leading the Titans to an undefeated season within the Patriot District and a return to the state tournament last weekend.
Oftentimes the smallest player on the court, Jenkins can come off as cocky to some with the amount of trash talk he dishes to opponents, but speak with him off the court and it's clear the bravado is more competitiveness than anything.
Even as many predicted the demise of the T.C. Williams basketball dynasty this season, Jenkins made it a point to ingrain in his teammates just how unacceptable losing had become on King Street. A four-year member of the varsity team, Jenkins finishes his career with a bevy of team accolades including 71-consecutive Patriot District wins, four Patriot District titles, three Northern Region titles, and one AAA state title.
"You just gotta be humble and play every game like it's your last," explained Jenkins about how he was able to maintain such high team standards.
He was also a key cog on last year's state championship team, but was expected to carry even more of the load this season with nine seniors from that squad graduated. The fact that T.C. Williams finished with a 27-3 record this year — just two wins off last year's pace — speaks volumes for not only Jenkins the player, but Jenkins the leader.
When asked about replacing his star player, King can only respond, "I don't know what we're gonna do."
<b>SENIOR TIERRA RUFFIN-PRATT</b> doesn't prescribe to the chatterbox theory that has made her male counterpart at T.C. Williams so successful. She's more in tune with former President Teddy Roosevelt. You know, "Speak softly and carry a big stick; it will take you far."
While Jenkins creates the laughter, the soft-spoken Ruffin-Pratt does the laughing. And while she may not have much to say to reporters or opponents, her play on the court this year and throughout her record-setting career did plenty of talking for her. So it should come as no surprise that Ruffin-Pratt has been named the 2008-09 All-Connection Player of the Year.
This season she averaged more than 18 points, 14 rebounds, and a whopping 4.5 blocks per game as she led T.C. Williams to a 24-6 record, the regional finals, and a spot in the AAA state quarterfinals. A shoulder injury in the second quarter of the Northern Region finals (after scoring 10 first-quarter points) is the only thing that stood in her way from becoming a regional champion.
After beginning the season slowly at 4-4, the Titans stormed to 20-consecutive victories before falling to Oakton in the regional finals. Along the way, Ruffin-Pratt scored more than 20 points nine times — including a 40-point outburst against Hayfield on the night her No. 4 jersey was retired. She also leaves the Lady Titans riding their own 40-game Patriot district-winning streak.
With more than 2,400 career points — a school record — Ruffin-Pratt will go down as the best girl's basketball player in T.C. Williams history. She's now getting ready for her June arrival on the campus of North Carolina, where she has accepted a full scholarship to continue her career.
"It's been a great four years, being able to show my talent with the high school team and show what they can do as well and not just what I can do," said Ruffin-Pratt. "It's what we did as a team that I'll always remember."