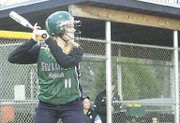 During her breakout season last spring, South County junior Chelsey Dunham became known almost as much for her unusual facial apparel as she was for her pitching abilities, which led her team to an 18-2 overall record and a 14-0 mark against Patriot District competition.
Though Dunham possesses an ability to make a softball rise, sink and often breeze past opposing hitters, she wore a protective facemask that made her look more like a fullback than a pitcher.
She doesn't remember exactly when it happened, but after taking a comebacker in the face, Dunham started to wear the protective gear to calm her nerves. This year, Dunham has shed the mask, electing instead to sport only a blue, sequined headband.
"I kind of outgrew it," said Dunham, a right-handed pitcher. "I gained the confidence that I needed, and I just didn't need it anymore."
But it's another stigma that the rest of her Stallion teammates are hoping to shed. For the past two seasons, South County has ended its season with a 1-0 loss to Herndon in the Northern Region semifinals.
"That's not gonna happen this year," vowed fifth-year coach Al Thompson, citing the graduation of Herndon's top pitcher, Katie Rynex, and the steady improvement of his own group. "If we can get past the second round of regionals, I think we can go on, do well in the region and earn a berth to states."
<b>DUNHAM AND DEFENSE</b> will be the two most important factors in whether or not that happens. A second team All-State and first team All-Patriot District and All-Northern Region selection, Dunham went 17-4 in 137 innings last spring, striking out 233 batters and only walking 13. Her ERA was 0.66.
As if those numbers weren't dominant enough, Dunham has continued to perfect her craft. She spent considerable time this past off-season at Velocity, a sports-fitness center in Alexandria, running and lifting.
Dunham devotes about 45 minutes each day practicing her pitching and then moves over to participate in fielding and hitting drills with her teammates. That's followed by a 15-minute run around the track to maintain her endurance.
While Dunham will be counted upon to limit opposing hitters' opportunities, South County is more than prepared should someone find a pitch to hit. Third baseman Stephanie Sbardella and first baseman Kayla Reisinger (.371 average last season) will anchor the corners with Taylor Dillow (10 RBIs in '08) at second base.
"Our defense is amazing," said Sbardella, the team's top asset at the plate after recording a .488 average last season with five doubles, nine RBIs and 14 runs scored. "You don't expect errors with us."
<b>ROBINSON,</b> which lost to Westfield last season in the region semifinals, returns slick-hitting Marcy Bowdren, a junior utility player who batted .511 last season with 19 extra-base hits, 23 RBIs and 37 runs scored.
Senior Christine Cunningham returns after hitting .284 with six doubles, 14 RBIs and 22 runs scored a season ago, as she'll try to replace departed Ali Marco at the shortstop position.
In his 20th year overseeing the Rams' program, head coach Barry Gorodnick will hope to improve on last year's 16-10 overall record and 7-5 mark against Concorde District teams.
<b>LAKE BRADDOCK</b> finished 8-10 overall last spring, going 7-7 against Patriot District competition. The Bruins will lose one of their top hitters in Kirsten Neubauer, who hit .400 last spring but moved away after the season.
Senior captain Carmine Coda, who hit .410 with two homers last spring, should provide plenty of offense, while classmate Caitlin Delmore, a second baseman, will move into a leadership role after posting a .300 average a year ago.
In the pitching circle, Lake Braddock will turn to junior Hanna Joseck and freshman Anna Delaney. Joseck, along with Coda, Delmore and junior shortstop Kelly Simons, will serve as team captains for a young group that has only two seniors.
<b>HAYFIELD</b> could challenge South County in the Patriot with the return of the Perry-Shifflett twins. Megan Perry-Shifflett, a shortstop, led the team with 24 RBIs and set school records in batting average (.561), on-base percentage (.623) and slugging percentage (.737, while Samantha Perry-Shifflett (.346 batting average in '08) will move behind the plate to fill a void left by departed catcher Kelsey Talbot.
Twelfth-year coach Ron Giovannucci had his squad at 14-5-1 overall, 10-4 against district opponents last season, but senior pitcher Jennifer Windau, who posted a 1.31 ERA and 125 strikeouts, should help improve that mark.