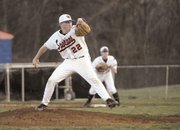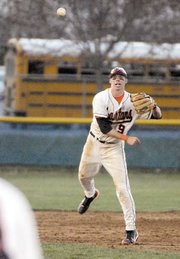 Any number of insults or indignations relative to the West Springfield baseball team could appear in this space, and it's likely that not a single Spartan would ever see them. While the Spartans return many key components from last year's 16-8 team, which advanced to the Northern Region semifinals, nobody is buying into any of the pre-season hype.
"We don't read what's in the paper, and we don't listen to what people say about us," said right-handed pitcher Mike Kent, a Clemson-signee. "We just want to play our game. And if we play our game, we're gonna win. That's all we worry about."
It's not as if Kent has anything personal against the print industry, but, rather, he and his teammates have walled themselves off from the outside world, from the expectation that they should be the team capable of unseating the defending Patriot District and Northern Region champions, Lake Braddock.
West Springfield played Lake Braddock close in last year's district title game but eventually suffered a 12-8 loss, walking 12 Bruins in the process. Whether they can get back to that spot is a long way off from any Spartan's mind.
"Being a region favorite, we just have to go in there one practice at a time and try to get better," Bryn Renner said. "That's all we're focused on."
<b>BY THE DEMEANOR</b> of fifth-year coach John James' team, one might suspect that West Springfield has totaled, oh, maybe five wins a year for the past five seasons. But most of the team's seniors are three-year starters, including two who'll play Division-I baseball next season.
Renner, a North Carolina-signee, plans to play both baseball and football at the school. He threw for 3,123 yards and 35 touchdowns on the football field this past fall and hit .360 with 20 RBIs and 24 runs scored on the baseball diamond.
But Renner is also nursing a left shoulder -- not his throwing one -- injury initially suffered during the football season. Despite playing basketball for the past three seasons, Renner skipped his senior campaign to ready himself for baseball. According to James, he's been taking batting practice, the shoulder has responded well and Renner should be cleared to play next week.
"He's a positive kid, and he brings a lot of positive energy," James said. "He has a good work ethic, and I think he's definitely a kid that the younger guys can take a lesson from."
<b>AND EVEN</b> when Renner is cleared to play, he could still spend a significant amount of time as a spectator. With Kent, the Spartans have a surefire ace, which could lead to more strikeouts and less ground balls for Renner to field.
"I definitely hope so," Renner said.
Kent, a first team All-District pick the past two seasons and a first team All-State selection this past spring, is also ranked as the 13th-best prospect in the state of Virginia by Perfect Game, a high school baseball scouting service.
A year below Kent is junior left-hander Bobby Wahl, who went 5-1 last spring with a 1.89 ERA and has verbally committed to Ole Miss. Both have gotten stronger this off-season, which has had a positive effect on both the velocity and break of their pitches, but both have also gotten smarter.
"They're learning more each day," James said. "You can definitely see the thinking; the cognitive aspect of pitching has increased in both of them. The physical skills are something we work on, but the cognitive skill, they have to absorb that knowledge. And they do a good job of that."
<b>HAYFIELD</b> will move to the National District next season, and the Hawks would like to make one last, positive impression on the Patriot before they depart, a desire shared with many of the school's coaches.
Five sophomores will see significant time and as many as four could start for third-year coach Scott Broyles, whose team went 3-17 overall, 2-12 against district opponents last spring.
But the one constant that Broyles will have exists in senior first baseman Taylor Kewer, who led the team in batting average (.431), on-base percentage (.523), RBIs (17), hits (25), runs scored (15) and doubles (five) last spring.
Shortstop/pitcher Kenny Booth, who had arthroscopic surgery on his elbow last year but is considered healthy now, should also help the Hawks, along with catcher Ben Adduci, who threw out 10 of 29 base stealers last spring.