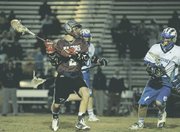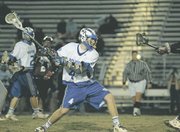 Generally speaking, most teams tend to ease into a new year, playing easier competition as new players adjust to a new season. Not the Mount Vernon boys' lacrosse team, though, they've gone full throttle into the 2009 campaign.
Following a 12-2 thumping of neighborhood rival West Potomac last Thursday, the Majors lost a heartbreaking 12-11 overtime affair with Falls Church — the defending National District champions — Monday night. With a game against defending state champion Chantilly coming up this Thursday, it's a good thing Majors coach Dale Nalls has a lot of faith in a team loaded with 16 returning seniors.
"They're a really smart group, so they just remembered a lot of stuff from last year," said Nalls.
Last week Mount Vernon (1-1) jumped all over the Wolverines, scoring six first-quarter goals, including three in the first two and a half minutes of the game. Doing much of the damage was a duo of senior attackers, Brandon O'Clisham and Austin Myhre. The two either scored or had an assist on all but one of the Majors' 12 goals on the night. Myhre finished with three goals and two assists, while O'Clisham netted four goals of his own.
Also expected to contribute offensively this season is senior Brian Green, a standout on the football and basketball teams earlier this year. In addition, Nalls will count on senior Mike Hall to hold down the fort defensively.
But this isn't just a large group of seniors hell bent on having a successful season. They've got tradition to uphold.
In the 13-year history of Mount Vernon lacrosse, the Majors have won nine National District championships, the last coming in 2005. That means for the first time in program history nobody on this year's team has ever been a part of a title-winning squad.
So lack of motivation certainly won't be an issue, especially after the team bowed out earlier than expected in the district semifinals to Yorktown a year ago.
"They're hungry, they're working hard, and they're a good team," said Nalls. "They gel when they need to. We think we're competitive in the region."
"The way we went out last season was kind of rough," said Hall. "Everybody was upset, so coming back to practice hard was easy after that."
<b>WEST POTOMAC</b> certainly won't take solace in the final score of last Thursday's rivalry game, but after the first-quarter barrage of goals the young Wolverines steadied themselves the rest of the way.
Senior attack Kyle Wagner got the team on the board midway through the third quarter, taking advantage of a misplayed ball by Mount Vernon's goalie to score his first goal of the season. Fellow senior Stephen Paul, a player coach Patrick Carmack called "an offensive showcase," scored West Potomac's only other goal.
A team chock full of either underclassmen or players that have just recently begun playing lacrosse, Carmack expects his inexperienced group to get better as the season wears on. Until then, he'll rely on Paul and senior Matthew Seyoum on defense to keep things afloat.
"I think the game would have been a lot closer if we were a little bit better prepared to start the game, instead of coming out and getting kind of shell shocked," said Carmack. "I think we've got a really talented squad, but we've also got lots of room to improve."