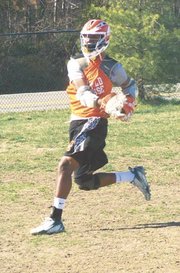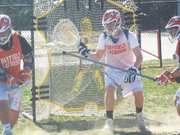 Jack Kendall, the fifth-year coach of Hayfield's boys' lacrosse team, follows a simple philosophy. Paraphrased, it states that until someone knocks off the defending champs, they're still the champs.
Such is the case in the Patriot District this season, with a glut of teams, including those from West Springfield, Lake Braddock, Lee and Hayfield, all looking to strip Annandale of both the boys' and girls' lacrosse titles.
"Over the past couple years, it's been really competitive," said Hayfield junior Phillip Hartman, the team's goalkeeper. "Everyone is kind of looking to see who's going to step up and take the challenge."
While the Virginia AAA state championship game has yet to feature a team that's not from the Concorde District, with both boys' and girls' teams from Chantilly, Robinson, Westfield and Oakton all taking a shot, the competition among Patriot District teams may be just as intense, if not as successful on a statewide scale.
In the past four years, a different team captured the Patriot each season, with the girls' title bouncing from Robinson (2005) to Lake Braddock (2006) to West Springfield (2007) to Annandale (2008), and the boys' title going from Robinson to T.C. Williams to West Springfield to Annandale during that same period.
The West Springfield girls' team, which lost to Annandale in last year's district title game and fell to Oakton in the Northern Region semis, returns second team All-Region midfielder Rachel Tomlinson, as well as fellow first team All-District performers Monica Evans and Bonnie Lalich, on defense and attack, respectively.
The Spartan boys' reached last year's district semis and dropped a first-round region contest to Langley. But honorable mention All-Region returnees Eric Schauder, a midfielder, and A.J. White, a defender, have West Springfield favored to become Annandale's top challenger this season.
<b>AT HAYFIELD,</b> Kendall, like many coaches, has taken the youth-leagues-are-the-program's-future-stars-approach. But unlike most coaches, he's done it himself.
When Hayfield went 14-1 in 2007, Kendall, because of the fact that his son was on the team, had coached most of those players since they were in seventh grade. So this year, Kendall is coaching a 13-U team with the Springfield Athletic Association's youth lacrosse program.
But while the youth-league work may not pay off for a few years, this year's team, Kendall feels, could challenge Annandale and West Springfield because of its workmanlike attitude.
"I really like that I don't have any superstars," said Kendall, praising the work of senior Michael Ande and sophomore Christian Davis, two of his team's top four scorers from last season. "I have a lot of kids who understand the team concept."
The Hayfield girls' team is 2-2 thus far, enjoying wins over Stuart and Edison. With the losses of All-District performers Erin Stevenson, Tancy Weatherford, Raya Thomas and Caitlin Vongvirath, sophomore goalkeeper Erika Dommes, an honorable mention All-District pick, will be counted upon to lead a young team.
Lee's boys' team didn't win a district game last season and finished with only two victories overall. This season? The Lancers are 3-1 with wins over Edison, South County and McLean. Leading scorer Andrew Senft returns, as do fellow juniors Killian Gallagher and Damian Pulos.
On the girls' side, Jennifer Diana takes over another Lee team that struggled to win a district game last spring. Diana will look to senior midfielder Casey Bragg to try and change that this season.
In the National District, the Edison girls' return leading scorer Corinne Spitzer (18 goals) to a team that went 3-3 in district play last spring. Fifth-year coach Lauren Hedden has a deep sophomore class, including four returning starters from last year's region tournament team.
The Edison boys' team lost three first team All-District selections from last year's group but return its second team All-District defender, junior Angus Harper, who was the football team's second-leading rusher in the fall.