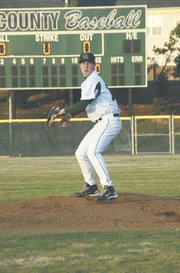 <b>More Records for Rams</b>
Nine school records were set this season during the indoor track and field season at Robinson, eight of them by members of the Northern Region champion girls' team. Little changed at the National Scholastic Indoor Championships, on March 13-15 in New York, N.Y. Freshman Genamarie McCant qualified for the finals in the 400-meter run with a school-record time of 56.50 seconds. In the finals, McCant was ninth at 56.68. Kelly Kavanaugh, a Virginia Tech-bound senior, broke a school record in the 800 with her time of 2:19.17, while Stephanie Bray (Holy Cross) made history with her 12th-place finish in the 5,000 (18:33.13). The boys' 1,600 sprint-medley relay team of Jae Seon Shim, Jung Wook Seo, John Ro and Jared Berman finished sixth (3:35.39) to earn All-America status -- all while running the prelims in the slowest of six heats.
<b>Paul VI Sports Shorts</b>
Paul VI's boys' tennis team went 2-1 in its first week of matches with wins over O'Connell and Good Counsel while suffering its only loss to Gonzaga. No. 1 singles player Brian Hope remains undefeated in Washington Catholic Athletic Conference play this season.
The girls' lacrosse team at Paul VI defeated Bishop Ireton, 14-10, last Wednesday, March 18, for its first win of the season. Shannon Strittmatter led the Panthers with five goals and four assists, and Allie Gottman, Meagan Astorino and Kristin Grady added two goals apiece.
The Panther softball team scored a 21-6 victory over Bishop Ireton on Friday, March 20 for its second WCAC win, as Kaitlin Smith went 5-for-5 with a double and a homer.
Paul VI's boys' lacrosse won its first three games of the season, with victories over Briar Woods, Notre Dame Academy and Woodbridge. Danny Barcklow had eight points (four goals, four assists) against Briar Woods, Kevin Righi won 16 faceoffs against Notre Dame and Christian Tiedge led the way with five points (two goals, three assists) against Woodbridge.
<b>James Madison University Baseball</b>
At 5-foot-9, 190 pounds, Matt Townsend doesn't possess a typical power hitter's frame, but he has performed like one at an alarming rate this spring for the James Madison University baseball team. A Hayfield graduate and Lorton native, Townsend has hit a team-best eight home runs this season while also posting a .330 batting average (30 for 91), driving in 23 runs and leading the Dukes in total bases (62). His slugging percentage of .681 also leads the team, which dropped to 14-10 overall, 2-1 in Colonial Athletic Association play with a 14-3 loss to Radford on Tuesday. Last season, the redshirt-junior made 13 starts, hitting .364 (16 for 44) with two homers and seven RBIs. As a senior at Hayfield, Townsend, an outfielder, was named All-Patriot District, All-Northern Region and was selected as the team's Most Valuable Player.
<b>Brennan Tosses No-Hitter</b>
In his baseball team's Patriot District opener against Annandale on Friday, March 20, South County senior Brennan Miller tossed a no-hitter, striking out 10 batters during his seven scoreless innings of work. He allowed only one walk during the 8-0 win.
Miller didn't throw a ball in three innings, and the right-hander threw a total of 84 pitches, 63 of which were strikes. Eighty percent of those strikes came on the first pitch.
"He was in command of every single pitch that he had," Stallions coach Mark Luther said. "He was in a little bit of a zone that night."
Brennan's gem, while dominant, was also historic. Since South County's first baseball season in the spring of 2005, no pitcher had ever thrown a no-hitter.
With the win over Annandale, coupled with a 12-0 defeat of West Potomac on Tuesday, South County improved to 2-0 this season. The Stallions have a an early-season test this Friday as they'll entertain last spring's Patriot District and Northern Region champs, Lake Braddock.
<b>Eagle View Touts Health</b>
A special assembly took place at Eagle View Elementary School in Fairfax on Wednesday afternoon to present the Healthy School Award, an award honoring the school's outstanding participation in the Healthy Kids Fun Run. The assembly occurred after this edition's deadline. On Oct. 25, 2008, Eagle View was one of the top participants as it brought 225 students to the 1-mile run that took place the day prior to the Marine Corps Marathon. The Healthy School Award is presented by the MCM and its partner, Washington FAMILY Magazine, to promote health and fitness, and on Wednesday, Washington FAMILY Magazine was expected to make a donation to the school's physical education department.