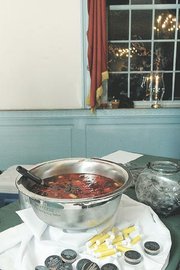 When Alexandria was a bustling seaport, every two-bit tavern in town had its own signature rum punch. Tavern-keepers knew that a strong and tasty rum punch would bring in customers and create a kind of branding to set them above the competition. Ever since 17th-century pirate popularized a drink then known as "kill-devil," the libation has always had a popular place in the imagination. Legendary pirate Blackbeard, for example, was said to enjoy a glass of flaming rum mixed with gunpowder. In America, so close to the sugar plantations of the Caribbean, rum held a special place in the liquor cabinet.
"Rum embodies America's laissez-faire attitude: It is whatever it wants to be," wrote author Wayne Curtis in the 2006 book "And a Bottle of Rum: A History of the New World in Ten Cocktails."
Yet the popularity of rum punch has waned over the years, and now patrons would be hard pressed to find the item on the menu of any modern-day establishment. Today's prized selections tend to lean toward the creatively assembled martini or the out-of-the-box mojito. Yet Old Town stalwart Gadsby's Tavern is keeping the tradition of rum-based drinks alive and well next month with the fifth annual Great Rum Punch Challenge on April 4 from 7 p.m. to 9:30 p.m.
"The spirit of this event is to come up with the best way to showcase this drink you don't often see on menus anymore," said Liz Williams, assistant director of Gadsby's Tavern Museum. "And rum punch was the most popular drink of the 18th century, so it's a fun way to showcase a drink that most people don't necessarily consume anymore."
The event will feature entries from six different local distilleries, restaurants and caterers: Bacardi Rum, Bittersweet, Union Street Public House, Dogfish Head's Microdistillery, R&R Catering and the PX. For the cost of a $50 ticket, participants will be able to sample all the entries and vote for their favorite. Gadsby's Tavern museum is also offering $100 VIP tickets that include admission to a pre-event tasting of Bacardi's special rums. Each of the rum-punch entries will have a distinctive interpretation on the drink.
"We like to stay with food because that's what we do," said Bittersweet marketing director Lena Teveris, adding that this year's entry will include caramel and apple. "We've found that caramel and rum seem to go well together, and people seem to be drawn to it."
Two years ago, when Bittersweet won the first-place award, their drink was based on a pineapple upside-down cake — a recipe that included caramel. Other creative interpretations over the years have included variations on the New Orleans "hurricane" or incorporation of popular desert items such as lemon crème pie or chiffonaded mint. Union Street Public House has its own competition in which staff members come up with a number of selections from which the winning selection is chosen for the Gadsby's Tavern event.
"We don't really make them available for the customers so much, but we let some of our regular guests try the different selections," said Kathy Boone, private dining manager at Union Street Public House. "It's more like a friends and family thing. The staff has a lot of fun with it."