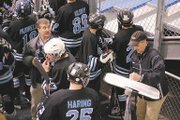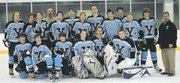 In the week since her late husband, Clyde Fairfax Newman III, died due to complications from a February stroke, Amy Moll Newman has had trouble digging up old photos of the man everyone has called "Tom" since childhood.
"Tom was always the photographer," his wife said. "Finding photos of him was always hard because he was always taking the photos."
That hobby was emblematic of Newman, 61, the director of real estate development within the Arlington County economic development office since 1999, who according to friends and family, always gave back to the community without asking for much in return.
A lifelong hockey fan, Newman will be most remembered for leading Arlington County's efforts to build Kettler Capitals Iceplex (KCI) on top of the Ballston Common Mall parking garage. From the time the idea for such a facility was hatched in 1998 to the moment the doors opened in late 2006, Newman's work was instrumental in getting what remains the only two full-size ice rinks inside the Capital Beltway in Northern Virginia built in Arlington.
The $42 million Iceplex is now the official practice facility of the Washington Capitals, as well as the home of the Georgetown and George Washington ice hockey programs, six local high schools, several area youth leagues, and numerous community skating programs.
"When you have a public-private partnership, there's even more potential for roadblocks and bumps along the road, but he was always very good at keeping the goal in sight and figuring out how to deal with the problems and keep moving, rather than giving up," said Amy Newman.
"No Tom Newman — no Kettler Capitals Iceplex," Capitals owner Ted Leonsis wrote simply on his blog, Ted's Take, last weekend. "He was a great man; a concerned and honest public official; and he loved hockey and his community."
<b>NEWMAN BEGAN</b> his career as a land use planning coordinator for the Montgomery County Council in 1973 after getting an undergraduate degree from Colorado College and a master's in urban and regional planning from George Washington.
Born in Philadelphia, Newman settled in the Washington, D.C. area working at several real estate development firms, including five years as a project manager at Oliver Carr, Co. After a two-year stint as a development director with Mills Corporation, Newman spent 12 years as the vice president for commercial development at Georgelas & Sons, Inc., a McLean-based real estate development firm.
There he met longtime partner and friend George Parr and the two eventually split from the company to start Blue Line Development, LC in 1994. Canadian-based Arc Icesports and Entertainment later bought Blue Line in 1997, but Newman stayed on as the director of U.S. operations/development. Between 1994 and 1999, Newman consulted on 15 ice rink projects worldwide, including facilities in Arlington, Reston, Rockville, Md., Chesapeake, Va., East Lansing, Mich., and Danbury, Conn.
"He was unusual, especially for local government, because he had experience in the private sector but had a master's in planning," said Parr. "He really understood the rules of the game, but was someone who was very open minded."
In 1999, Newman accepted a position within the Arlington Economic Development agency as its director of real estate development to help further Arlington County's strategic planning and long-term development goals for the downtown and neighborhood areas of the city.
Although his lasting legacy within Arlington will be KCI, Newman also spearheaded major projects like the Village at Shirlington retail center, Courthouse Road hotel development, the Arlington Conference Center, and the revitalization of Columbia Pike.
"Virtually everything that has happened here in the last decade in terms of economic development has his fingerprints on it," said Newman's boss and director of Arlington Economic Development, Terry Holzheimer. "But he wasn't one of those guys who was really screaming for attention."
<b>HOCKEY WAS NEWMAN'S</b> passion, though. In addition to his numerous forays into ice rink development, Newman also served as the head coach of the Yorktown High School club ice hockey team the past six seasons. From 2003-2005, he was able to coach son William, who then completed his high school hockey career at a prep school. He was also a former president of the Arlington Travel Soccer Club.
Up until this year, Newman participated in adult hockey leagues and his love of the game can be seen in some of the programs now offered at KCI. One of Newman's favorite charities was Special Hockey International, a non-profit that provides hockey programs for the mentally challenged.
As part of the negotiations during the development of KCI, Newman included a clause that made sure the Capitals provided 500 hours of free ice time annually to worthy causes. It's a big reason why the facility isn't just home to a professional hockey team, but also a community center for ice enthusiasts.
"Tom really saw the value of it being all-inclusive and having a rink where a lot of things were going on," said Parr. "He was pretty much a hockey dad, who played in a men's league and he never got too far away from that."
Newman is survived by his wife, Amy, their two sons, William and Thomas, his father Dr. Clyde F. Newman, Jr., and two brothers.