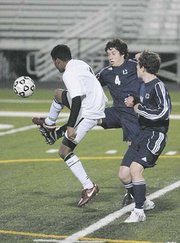 South County's girls' soccer team entered this season with two of the Northern Region's top juniors in Morgan Duffy and Alex Reed. The South County boys' soccer team, meanwhile, began this campaign with two gaping holes to fill on its back line, as the Stallions graduated a pair of three-year starters in David Forrester and Justin Griggs.
At about the quarter pole of this spring season, Duffy and Reed have continued to light up the scoreboard while the losses of Forrester and Griggs have been more than accounted for, with the boys' team having still not allowed an opponent to score.
All of that has led to a whole bunch of optimism at South County, not to mention the teams' combined 8-1-2 record, which has both teams atop the Patriot District standings.
"They're off to a great start, but they're very level-headed and they know they have to take care of the little things and the big things will take care of themselves," said Erich Gunderman, head coach of the boys' team, which finished 7-3-3 last spring and lost to Lee in the district quarterfinals. "They understand that there's always something we can do better."
"Our core group really works well together," said girls' coach Maureen Saale, whose team went 13-2-2 in 2008 before it was upset by West Springfield in the district semifinals. "What we're seeing now is a lot of teamwork and working together."
<b>IN ADDITION</b> to junior goalkeeper Javier Hernandez, a three-year starter, Gunderman returns a pair of hard-working midfielders in Willie Roque and Zach Willner and a top-notch defender in Max Kleess, who are all seniors.
Besides Reed (16 goals and eight assists in 2008) and Duffy, Saale welcomes back first All-District defender Megan Rea and second team All-District forward Liz Hodges, who hopes to fill the void left by an injury to Kelly Johnson, who is out for the season with a broken fibula.
While the girls' team, which totaled 16 goals during victories over Mount Vernon and Lee, has done it with offense, Gunderman's boys' team has been sound defensively, executing his philosophy of the sooner the ball is taken away, the better.
"We're preaching with the kids that when we lose the ball, the best time to get it back is right then," said Gunderman, whose team has never won a playoff game in its four-year history, a trend the Stallions hope to snap this season.
Saale's group has benefited from the performance of Paige Ritari, who, despite tearing her anterior cruciate ligament during the district semifinals last spring, has rejoined the team and has seen her playing time increase gradually.
"She inspired a lot of the players to really work hard because they saw a player out there who was working hard and they saw her with the trainer and then coming out and not being able to play," Saale said. "Everyone has enjoyed watching her progress."