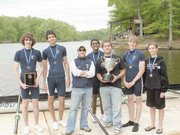 <b>Rematch for Rams</b>
During the Robinson girls' lacrosse team's out-of-district matchup with Georgetown Visitation on Thursday, April 23, 50 minutes of regulation time was not enough to determine an outcome, so the two teams faced a pair of 3-minute overtime periods.
The Rams, did not come out as strong as they would've liked, and that 8-7 loss was a memory that they carried into Tuesday night's Concorde District semifinal contest against Westfield.
Tied at 14 after regulation, Robinson rattled off four answered goals to earn an 18-14 win. The victory sets up a rematch of last year's district title game against Chantilly, when Robinson handed Chantilly its first loss of the season with a 14-13 win.
"Before we went into this overtime, we just looked at each other and said that we learned from the last time," said Robinson coach Alison Neun, whose team improved to 8-3 on the season.
Rachel Moody led the Rams with six goals, while Campbell Collier had four and Abigail Eastman and Sarah Moody each had three apiece. Rachel Moody also recorded a team-best three assists.
The Robinson's boys' lacrosse team was not as fortunate, as it suffered a 7-5 loss to Westfield down the road at Fairfax High School. Despite tying the score at 5 with 8 minutes, 49 seconds to play in the fourth quarter on a goal by Daniel McNulty, Westfield scored two consecutive times to grab a 7-5 win.
Westfield will face Chantilly in Friday's title game, while Robinson will likely get the No. 3 seed and face the loser's of Friday's Liberty District title game between W.T. Woodson and Langley.
<b>School's Not Out</b>
While trepidation about the spread of swine flu (H1N1), which has forced the cancellation of all high school sports in Texas and Alabama, the Virginia High School League (VHSL) released a statement this week saying, as of now, it is not planning to take such actions.
"The Virginia High School League (VHSL) is and has been in communication with the Virginia Department of Education (VDOE) Health Services and is currently monitoring the latest updates from the Centers for Disease Control and Prevention (CDC) during this Swine flu (H1N1) outbreak," read the statement, which was released by VHSL communications manager, Mike McCall.
"The VHSL, at this time, has not postponed any upcoming VHSL championships and/or regular season games based on the current Swine flu (H1N1) outbreak. The National Federation of State High School Associations (NFHS) Sports Medicine Advisory Committee is also monitoring the latest updates from the CDC on the H1N1 Virus. As of right now, the NFHS recommends that each state association follow the lead of its state and local health departments."
As of Tuesday, only two cases of swine flu had been reported in Virginia, according to Gov. Tim Kaine (D), while Rockville High School in Maryland had to close Friday because of a potential outbreak. The VHSL recommends checking the Virginia Department of Education Web site (www.doe.virginia.gov) or the CDC Web site (www.cdc.gov/swineflu) for more information.
<b>Deering Goes Yard, Thrice</b>
With only two career home runs prior to a doubleheader on Saturday, May 2, West Springfield graduate Brian Deering hit three long balls during his Niagara University baseball team's two-game split with Manhattan. For his efforts, Deering, a sophomore infielder, was named the Metro Atlantic Athletic Conference's Player of the Week. For the weekend series, which Niagara won, Deering hit .585 (5-for-8) with five RBIs, four extra-base hits while boasting a career-best 1.875 slugging percentage and a .700 on-base percentage. On the season, Deering is hitting a team-best .345 (49-for-142) while also leading the Purple Eagles (18-30, 12-6 MAAC) in doubles (11), home runs (5), RBIs (31).
<b>District Dominance Continues</b>
The Jefferson boys' tennis team, despite a 5-4 loss to Langley on April 30, claimed its eighth straight Liberty District title, splitting honors with the Saxons. By virtue of a coin toss, it was determined that the Colonials would assume the Liberty District's No. 1 seed in the upcoming Northern Region tennis tournament. Thirteen different players participated in at least one varsity match, and seven parts of Jefferson's starting lineup claimed All-District slots, along with honorable mentioned selection Eric Bomgardner. In singles play, Edwin Zhang (No. 1), Spencer Clark (No. 2), Glen Hookey (No. 5) and Spencer Frei (No. 6) were All-District picks, while in doubles play, the Zhang-Clark (No. 1), Hookey-Frei (No. 2) and McPherson-Cheng (No. 3) pairings were also All-District choices.
<b>Windau Approaching History</b>
With her 187th strikeout of the season, Hayfield softball pitcher Jennifer Windau started what would likely be a domino effect of the school's remaining pitching records. In addition to setting the single-season strikeout record, Windau's total of 15 wins is only one shy of the record-setting mark of 16. Furthermore, if she maintains her current ERA of 0.45, Windau would break the previous ERA record of 0.62. At the plate, Windau leads the Hawks (15-2) with a .509 batting average and 20 RBIs, which is five shy of the single-season mark. She's also slugging .618 and reaching base at a 54-percent clip. Windau is a four-year starter who has over 500 career strikeouts and 50 wins in her prolific career.
<b>Lacrosse Registration</b>
NoVa West Lacrosse is conducting registrations for its summer camps, clinics and indoor league play. Camps and clinics will be in June and July. NoVa West, as the exclusive provider for lacrosse in the new Purcellville Sports Pavilion indoor facility, will be hosting summer, fall and winter indoor leagues for U-13, U-15 and high school-age boys. NoVa West is also conducting registrations for tryouts for the U-15 Virus and high school-aged Crusaders and Outbreak squads. Tryout weekends will be May 16-17 and 23-24. For more information or to register, visit the NoVa West Web site at www.NoVaWestLAX.com.
More like this story