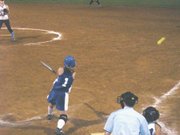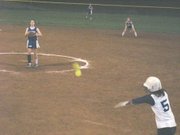 O'Connell coach Tommy Orndorff gathered his team and had them all surround home plate at Yorktown High School's home softball field last Saturday night. He was giving his Knight softball team a lesson on adjusting position within the batter's box depending on how an umpire was calling a game.
"C'mon ladies, listen up, they're gonna turn the lights out on us," said Orndorff as the clock closed in on 9 o'clock.
Mind you, O'Connell had just finished a nail biting 1-0 win over Arlington County rival Yorktown, but for Orndorff there's never a bad time for a teaching moment, especially this season with a lineup featuring five freshmen or sophomores.
Normally a team with this much youth is in for a rebuilding year, but not at O'Connell, where WCAC titles are the norm, not the goal. The Knights have won five-straight conference championships and 12 total since the WCAC started playing softball back in 1994.
And while those within the WCAC have wondered if this might be the year to dethrone O'Connell, that hasn't stopped the Knights from compiling a gaudy 14-1 record within the conference this year, securing the No. 1 seed in the WCAC tournament beginning Thursday.
"They better beat us this year," said Orndorff. "Because next year these girls are only gonna get better and we've got some more talented freshmen coming in."
<b>GETTING PAST PUBLIC</b> school teams hasn't been as easy, though. Last year against Yorktown, the Knights watched a 1-0 lead evaporate in the bottom of the seventh inning and then allowed the Patriots to take the lead and win in extra innings.
Saturday night it seemed as if it was déjà vu. After allowing just two baserunners through six innings, O'Connell sophomore pitcher Jilly Falle and her teammates began to feel the pressure of a tight game.
After two easy outs to start the final frame, an error allowed Yorktown's Stephanie Severn to get on base. She promptly stole second base and moved over to third when center fielder Gretchen Schneider poked a single into right field.
"I was really nervous," said Falle, "… considering what happened last year."
"I was thinking one little dink here and we lose this game," said Orndorff.
His young pitcher made sure that thought didn't become reality, though, striking out Kimmie Oldham with four pitches to end any thought of late game heroics. For the game, Falle gave up just three hits, striking out 13 batters, while allowing just one runner — Severn in the bottom of the seventh — to reach third base.
The righthander has now pitched 104.3 innings, given up just seven earned runs, and struck out 114 batters this season. But she's just one of several talented youngsters for the emerging Knights, including sophomores Jessica Burk (.521 batting average) and Sophie Giaquinto (.400) and freshman Allison Grasmeder (.472).
"This is where our youth shows up," said Orndorff, whose team's lone run was scored by Grasmeder courtesy of an RBI single by junior Jessica Eidt in the fifth inning. "The girls just aren't used to playing in games like these. "This time of the year [1-0] is gonna be the score of games and we needed [Jilly] to finish and she did. She pitched a great game."
The victory leaves O'Connell at 3-3 against Northern Region foes, with wins over contenders McLean and Centreville. The Knights are 16-4 overall. They start the WCAC tournament this Thursday.
<b>AS FOR YORKTOWN</b>, the loss proved that the Patriots have the talent to match up with just about anyone in the area. While pitcher Hannah Bauman had her shaky moments against O'Connell, her deceptive off speed pitches kept the Knights at bay. She allowed five hits, one earned run, and struck out two batters.
But it was a victory the day before against Falls Church that had coach Julie Fetter and the rest of the Patriots excited. The 5-1 win gave Yorktown the National District regular season title for the third-straight season. Now the team is focused on extending that streak into the postseason.
"I think we're really starting to pick it up," said Fetter. "We've got the three-peat … but we'll see what happens next week," when the playoffs begin.