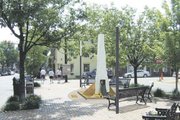 For more than a year, a sculpture known as the Sacandaga Totem has been waiting patiently in upstate New York. One day, it will be installed at the three-way intersection of Commerce, Fayette and King streets. When City Council voted to accept the public art as a gift in January 2008, it was valued between $60,000 to $90,000. Since that time, city officials have delayed the project of installing the 5,000-pound obelisk.
"We have people who are hungry out on the streets," said Mayor Bill Euille. "It just didn't seem like the right priority considering some of the human needs we have right now."
Euille said he would be open to private money being used to install the sculpture, which measures 113 inches high, 66 inches wide and 43 inches deep. It was created in 1997 by sculptor John Van Alstine, the piece was the last of a five-part series of totemic sculptures that mixed the formalism of the Washington Monument with the naturally formed buttes of the American west.
"This is material that came from the earth, even the man-made steel was made from elements of the earth," said Van Alstine in an interview last year. "I think it kind of speaks to the geological formations of the land."
The sculpture's nonrepresentational form and modernistic design are certain to make a lasting impression, whether it's viewed by pedestrians walking along the corridor or riders in the city's trolley service. The sculpture will be placed near the center of the existing brick plaza surrounded by four benches with landscaping and lighting designed by the Old Town architectural firm of Stephenson and Good.
"We wanted the finishes and the materials we used to integrate into the fabric of King Street, including the lighting," said Robert Good, the architect who designed the base and lighting. "It's relatively central in the plaza but behind the façade lines of the buildings."