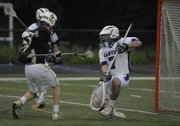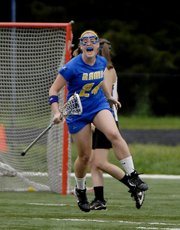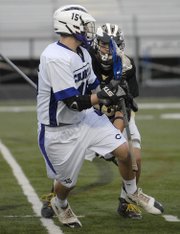 When Brian Abatemarco flung himself in the air and picked off a game-ending pass in the end zone against Westfield during the Northern Region semifinals last fall, Chantilly football fans had a memory to savor forever, especially with it coming against the rival Bulldogs.
Now Abatemarco's lacrosse team has a memory just as special. With less than 10 seconds remaining in the second overtime period Friday night at Fairfax High School, Chantilly's Joe Marson fired a shot on the Westfield goal, only to have it deflected away.
But behind Marsoen was Brendan Waters, who scooped up the loose ball and scored with three seconds to play, lifting Chantilly to a 5-4 win and its second consecutive Concorde District title.
"I saw it bounce and I knew I had a chance at the rebound, so I just picked and threw it at the goal," said Waters, whose team will face the fourth seed out of the Liberty District, during the first round of the Northern Region tournament on Tuesday night.
The win improved Chantilly's record to 11-1 this season, with the Chargers' only loss coming to St. Alban's on April 4.
With a first-round bye in the district tournament, Chantilly only needed to top Oakton (a 7-3 win) on Tuesday night to reach the finals, while Westfield beat Fairfax and pulled off a 7-5 win over Robinson on Tuesday to get here. With the loss, Westfield will now face the third-seeded Liberty team in its first-round region game.
Mike Turpyn kicked off the scoring for Chantilly less than two minutes in, and, with 8:13 remaining in the first half, Robbie Bowers scored his first goal off of a Devon Westerman feed. Nearly four minutes later, the pair completed the same play: Westerman working the side, Bowers positioned in front.
Westfield's Woody Angle made it 3-1 with 1:44 left in the first quarter thanks to an assist from Harry Van Trees. Teammate Forrest Fiser, at 9:48 of the second quarter, spun and fired a shot past Chantilly goalkeeper Derek Kegerreis (14 saves) to pull the Bulldogs within one, 3-2.
Turpyn struck again with 1:56 to play before halftime after a 30-second penalty on Westfield had just expired, pushing Chantilly's advantage to 4-2. But Westfield's Ryan O'Sullivan, with less than seven minutes remaining in the fourth quarter, scored twice in 70 seconds to tie the score at four.
"We were just looking for a good look, a good drive; see if they could move the defense," said Chargers coach Kevin Broderick. "Brendan had a lot of great looks early, and he just missed. I just thought he was gonna be due one time."
<b>RACHEL MOODY,</b> a junior on the Robinson girls' lacrosse team, spun to her left. Then, without taking a look at the cage, twirled back to her right. And when she finally squared herself with Chantilly goalkeeper Heather Meraw, Moody still didn't have her mind made up as to what she was going to do next.
But as she started to cock her stick back, Moody saw an opening to Meraw's left.
Launching a shot from 15 yards out, Moody buried the ball into the back of the cage with about 90 seconds remaining to push her team to a 9-8 lead that it would not relinquish as the Rams stumped Chantilly in the Concorde District girls' lacrosse final for the second time in as many years.
"I knew there wasn't much time left," said Moody, who finished with a pair of goals against the Chargers. "We had to take the opportunity. I saw [open] net, and I just went."
The loss was especially painful for Chantilly, which suffered a 15-14 loss in the final second of regulation to Robinson in last year's Concorde District final. A week later, Chantilly dropped the first of two consecutive big-game losses to the eventual Virginia AAA state champion Oakton.
By grabbing the Concorde District's top seed for next week's Northern Region tournament, Robinson earned the right to face the fourth-seeded team out of the Liberty District. Chantilly, meanwhile, will match up with the Liberty's No. 4 seed.
According to Rams head coach Alison Neun, her team drew special motivation from the first meeting between the two squads this season, which ended in a 12-5 win for the Chargers and was, Neun said, Robinson's worst performance this spring.
"We played our worst game all season, and after watching film, we were making mistakes that we had never made before," said Neun, whose team improved to 9-3 this spring. "We just had to calm ourselves down."
The Rams displayed that calmness early, as they stayed mostly even with Chantilly in the first half and only trailed by one goal after the first 25 minutes.
In the second half, Robinson's Tory Barron scored just more than a minute into the second half to tie the game at four, and Moody put the Rams ahead with a free-position goal at 20:44. Robinson's Megan Dunleavy deposited her first goal of the game at 10:49, pushing the Rams ahead, 6-5, but Erin Robertson tied the score for Chantilly off of a Griel assist at 10:17.
By notching a free-position goal at 7:58, Chantilly's Kacey Norwood put the Chargers ahead, 7-6, with her first goal of the contest. Kylie Chaplin pushed the lead to two -- the only two-goal lead of the game -- at 6:46, which came courtesy of Griel's second assist of the night.
Barron scored her second of the game at 5:30, bringing the Rams within one, and Sam Barber, a defender, flicked a shot over Meraw's right shoulder, tying the score at eight with 2:21 to play to set up Rachel Moody's game-winner.
"It still hasn't set in," said junior goalkeeper Kelsey Zinck, who totaled 14 saves in the win. "Our team never doubts each other. We work so well together, and we feed off each other's energy. We knew we just wanted to keep the fire going. Every person played a part."