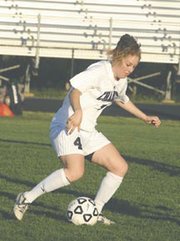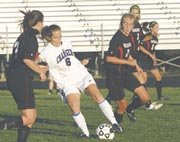 Before making the four-and-a-half-mile drive over to Westfield High School for last Friday's Concorde District title game, Chantilly girls' soccer coach Melissa Bibbee pulled her team into the school's gymnasium and delivered a message.
Underneath the banner used to commemorate past district and regional champions, Bibbee pointed to one year in particular: 2000. That's when Chantilly last won a Concorde District title. It was too long, Bibbee said. There was too much empty space. It was time for an update.
"That was inspirational," said junior goalkeeper Lauren Jancuska, whose save after four overtime periods and a seemingly endless number of penalty kicks ensured the 7-6 win over arch-rival Robinson.
"It was kind of a big deal for us to do something," added William & Mary-bound midfielder Cortlyn Bristol. "I've been here for four years, and I would kinda like some recognition. That would be good."
Jancuska's 21st save of the night sent Bristol and Co. piling on top of the goalkeeper, triggering tears of joy and mayhem. It's been nine years since Chantilly last beat Robinson, including three losses last year.
"It's really nice to see at the high school level that they take it so seriously and that it means so much to them," Bibbee said. "It was fun to watch. We just kinda sat back and watched them all jump on each other and have fun."
<b>FACING MADISON</b> in the first round of the Northern Region tournament Monday night, Chantilly was still enjoying the upset -- perhaps a little too much. The score was tied for most of the second half before Kristen Melchiori's second goal of the game put Chantilly ahead for good. Now, Bibbee's team advances to face South County on Thursday in the region quarterfinals.
"I think we were still a little caught in the district championship," said Bibbee, whose team is now 14-2-1 on the year. "We hadn't moved on."
The offense has been there for Chantilly this season, with Bristol leading the squad with 13 goals and Melchiori second with nine. Midfielder Katie Menzie (James Madison) has a team-high 10 assists, while Bristol and Kaitlyn Manley are tied for second with five.
But the Chargers' defense, anchored by Jancuska, has been especially impressive this season, too. In those 17 matches, they've allowed 10 goals or nearly an average of one goal every other game.
In goal, Jancuska has allowed an average of .33 goals per game. And one of the two goals that slipped past her during a 2-0 loss to Robinson on April 17 came off of one of her teammates, an own goal.
"Our defense has been very, very solid all season," Bibbee said. "Lauren did make some very good saves [against Robinson], but she also didn't have to make some saves because of our defense."
Now, with a banner to alter, Chantilly finally has something to defend.